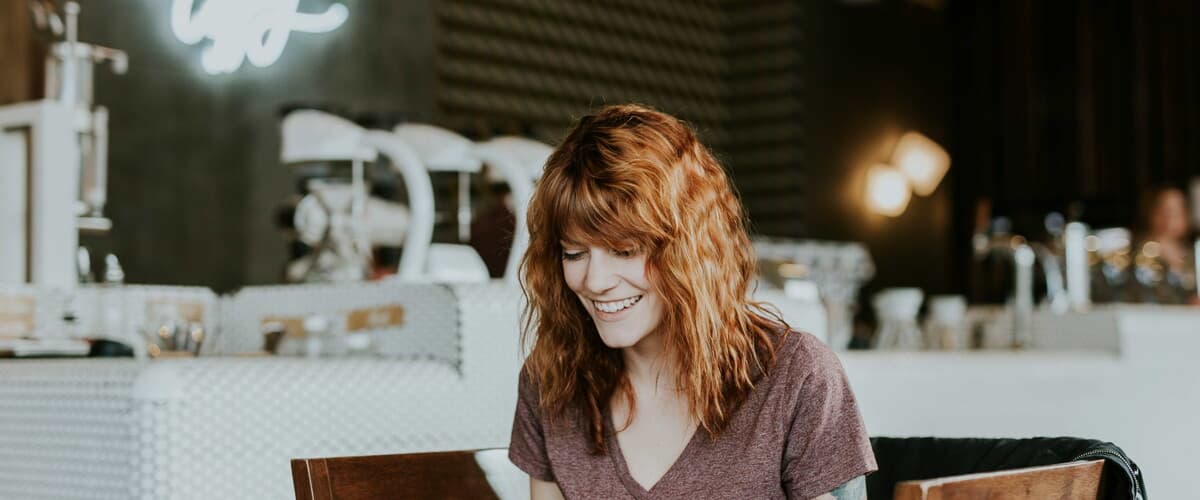 US Regional Marketing Lead
Flexible remote • HYBRID - USA Based
Lead marketing role to make a meaningful impact on our customer acquisition and expansion, driving our mission in the US to inspire people to live their best lives
About us:
At YuLife our mission is to inspire people to live longer, happier and healthier lives. We're transforming products once focused on death and illness into ones that inspire life and reward living - turning old-fashioned employee perks into life-enhancing benefits. Our YuLife app uses behavioral science and gamification to drive employee wellbeing through meaningful, engaging and rewarding experiences.
We live our values, and have created something pretty unique – a workplace where you are celebrated for everything that you are.

We are a company with a strong purpose and drive – one of our mottos is 'build the world you want to live in'. So if you're passionate about positive disruption and giving more than you take, then we want to hear from you. 

The journey so far:
What's happened over the last few years: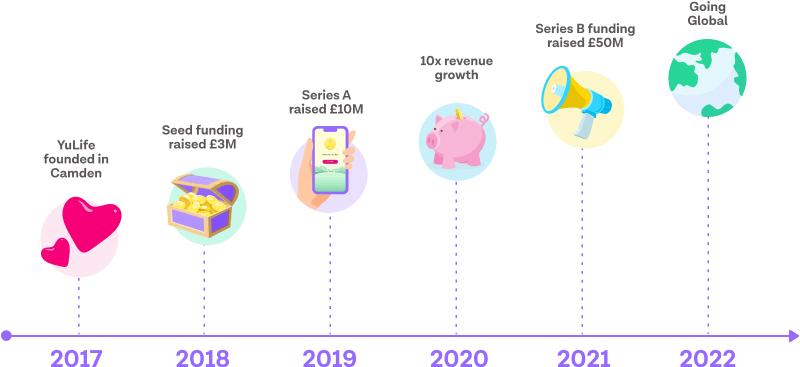 The 2022 mission is to reach 1 million lives!
The role:
YuLife is scaling and we are looking for a US Regional Marketing Lead. The Regional Marketing Lead will be a part of our growing US team and will have a meaningful impact on our customer acquisition and expansion.

You'll have specific responsibility for:
Proactively own and implement the region-specific marketing plan for b2b customer awareness, growth and expansion
Collaborate effectively with centralized UK marketing team, sales and product to deliver goals
Collaborate with demand gen to build regional-specific marketing campaigns (including account-based-marketing), and track and analyze results
Collaborate with product marketing to build regional specific sales tools and competitor intelligence
Plan both in-person and virtual events to drive leads and engage with prospects
Identify new research and content opportunities to engage with buying community and create PR opportunities
Collaborate with carrier partners and other partnership verticals to drive revenue with the US sales team
Collaborate with Product Management on value proposition design across a variety of customer and partner personas.
Drive development and refinement of product marketing strategy in partnership with Product Management and our UX Research Team.
Proactively lead efforts to build, maintain, and execute market readiness roadmap for upcoming capabilities scheduled for release.
As part of the US Launch Team, you'll have the opportunity to share your other skills and talents to help with important needs to ensure a successful launch.
What skills and experience are we ideally looking for ?
10+ years of regional marketing under your belt, ideally working with SaaS products, and may be with HR platforms and partnership marketing (eg. broker marketing)
Strong knowledge of mid-market and enterprise marketing tactics and best practices
Excellent people and management skills so you can work with colleagues, cross-functional teams and third parties to deliver success.
Track record of success delivering pipeline and revenue outcomes
Prior experience with organizing regional and local events
Self-starter with the ability to use data and industry insights to make strategic decisions
Experience with marketing automation tools like Salesforce.com and Hubspot
Strong customer-facing and presentation skills with the ability to establish credibility with executives
YuLife Benefits
Financial Benefits
Competitive base salary
Potential to earn share options
401(k) options with 5% employer match
24 days PTO + 1 'personal' day (e.g your birthday, moving house etc.)
Paid company holidays
Parental Leave policy
Medical/Disability/Life & Voluntary Benefits
100% employer paid medical, dental, and vision coverage
Life coverage
Short and long term disability coverage

Access to voluntary benefits for increased protection
Additional Perks
YuLife app & rewards
Employee Assistance Program (EAP)
Monthly wellbeing stipend to "Be your Best Yu"
Unlimited professional coaching sessions with More Happi

A shiny MacBook Pro or whatever you need to do your best work
Contributions to working from home office equipment
Flexible and remote working arrangements
HIIT and Yoga sessions
Access to Learnerbly with a dedicated budget towards L&D through webinars, books, podcasts, journals and much more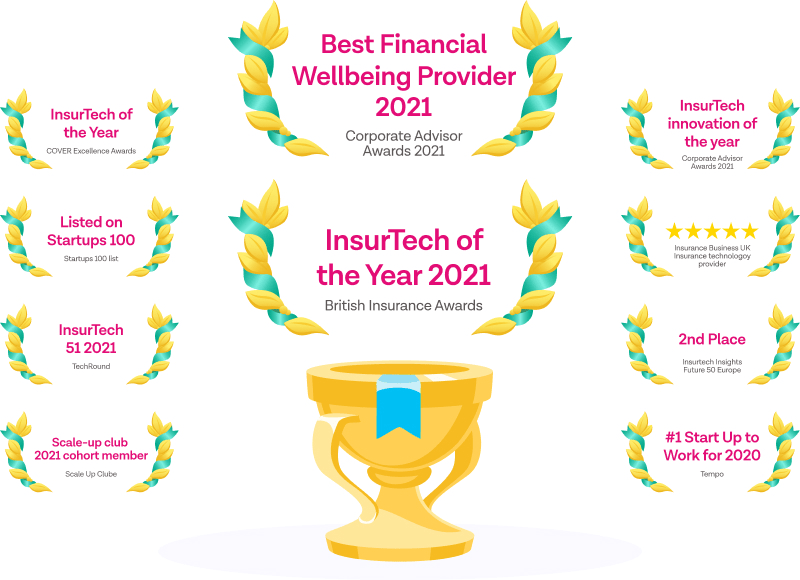 Our values: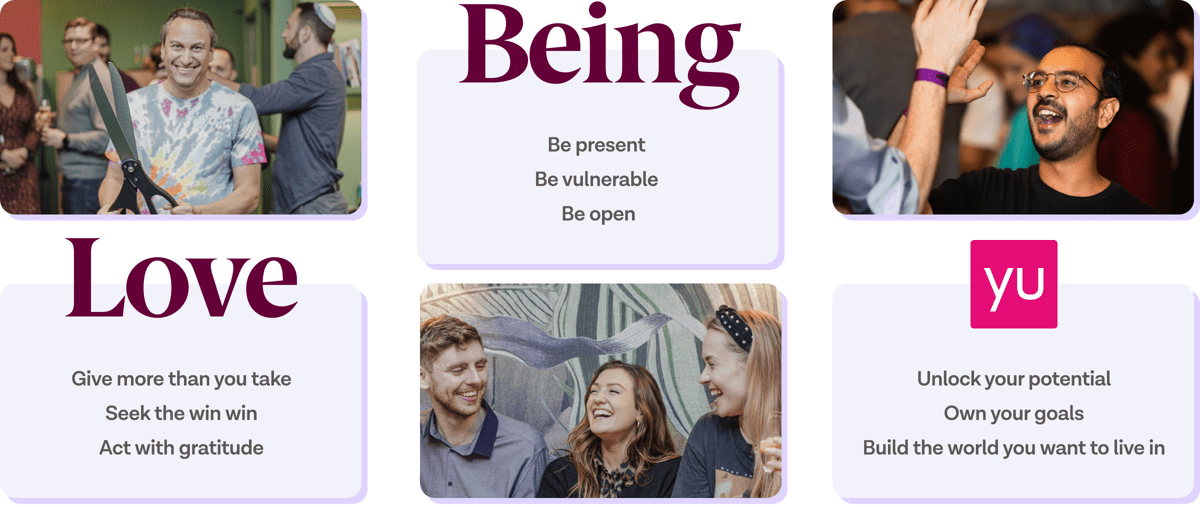 YuLife company culture:
Read what one of our key investors has to say about our culture ›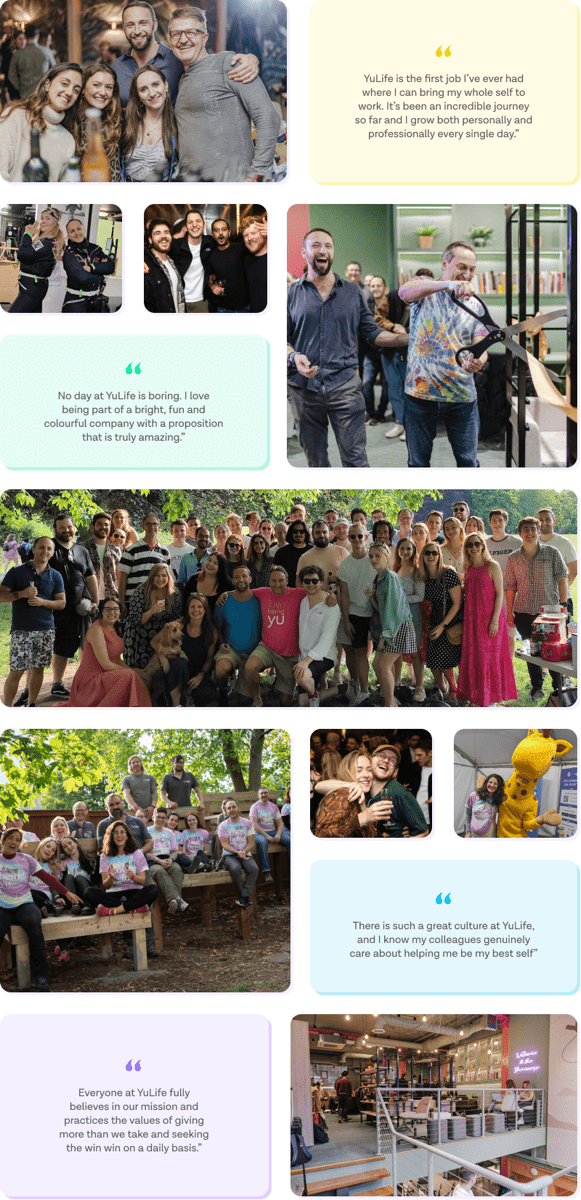 We're more than just life insurance!