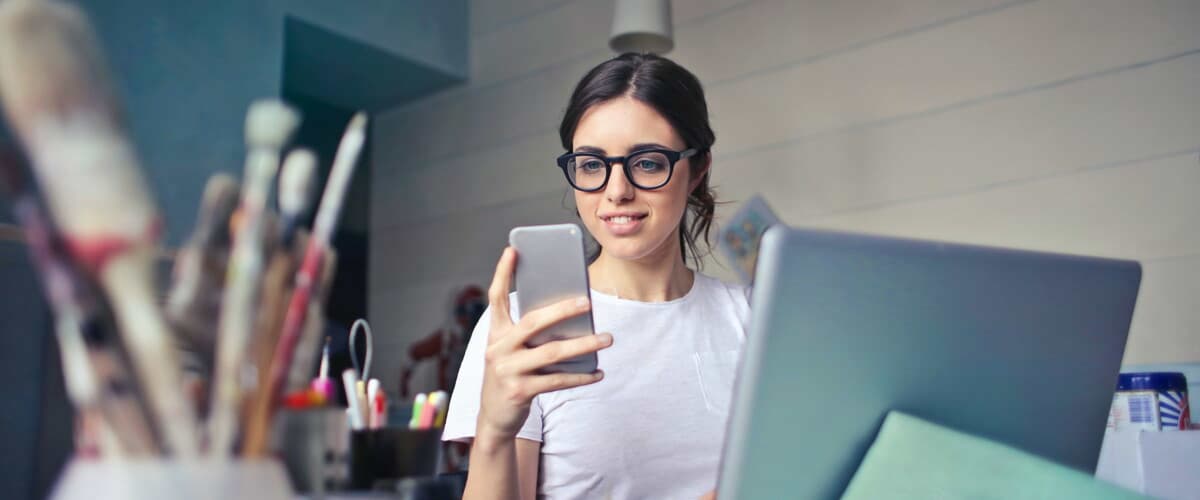 Campaign Manager (Digital Marketing)
Flexible remote • Old Street
Brand new commercial marketing role to lead, develop, plan and execute creative digital campaigns to engage with our app user base
About us:
At YuLife we're transforming products once focused on death and illness into ones that inspire life and reward living — turning old-fashioned employee perks into life-enhancing benefits.
We are explorers, dreamers and innovators. We're on a journey to build the best platform in the world, but we can't do it without people like you, leading the way.
Forget the stereotypical tech companies of the past. Embrace the unconventional, exercise your imagination and help alter the future with YuLife.
Which hopefully is where you come in.

The journey so far:
What's happened over the last few years: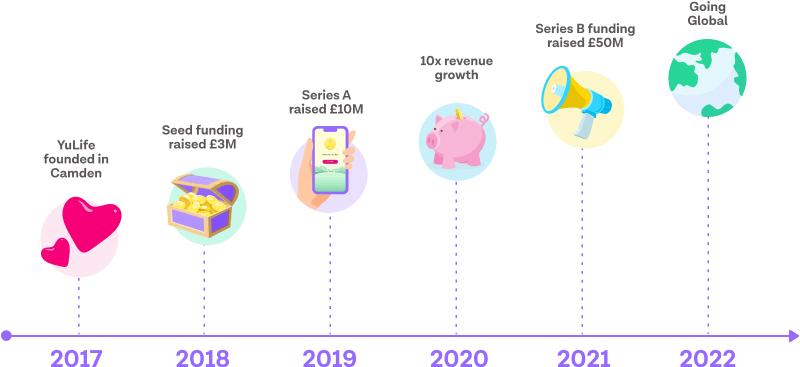 The 2022 mission is to reach 1 million lives!
The role:
We are looking for an inquisitive, creative and forward thinking Campaign manager to join our scaling Dynamic engagement squad. You will be instrumental in building new and exciting live-ops experiences, conducting A/B testing and guiding, motivating, and celebrating our players from their first interaction, and every day thereafter.
What you'll do:
You will play a key part in breathing new life into the Yuniverse by creating dynamic user experiences. Driving player engagement and happiness by implementing a consistent stream of exciting and delightful experiences.

Create a robust system to continuously improve user experience, engagement and retention by researching our user base, conducting experiments and implementing meaningful iterations.

Run effective commercial campaigns that deliver a meaningful ROI.
Over the next 12 months you'll be instrumental in:
Devising integrated campaigns that encourage activation and retention of those engaging with the YuLife app.

Devising commercial campaigns to drive sales and ROI

Managing campaign processes and implementation.

Writing and proofing copy for campaign materials.

Tracking the impact of campaigns and new features on our end-users.

Delivering insight that helps us refine new features across multiple products.

Helping us raise a stellar Series C!
You'll have specific responsibility for:
Managing the process for building out new campaigns.

Managing and defining a consistent tone of voice across all communication channels.

Using our platforms to build, release and measure campaign effectiveness.

Conducting granular investigations into campaign UX data.

Ensuring YuLife's brand and narrative is felt throughout all campaigns.

Supporting commercial squads by effectively delivering campaigns which lead to a direct ROI.

Working with Client Success Management to plan user-level campaigns carried out at a business level.

Delivering regular updates on "live-ops" campaigns - keeping track of campaign performance and regularly reporting their status back to stakeholders

Feedback development and survey analysis: including but not limited to surveys (NPS, CES and UX research)

Deepening our dynamic engagement capabilities

A/B tests analysis - reviewing A/B test findings and interpreting results

Utilising insights that evaluate existing campaigns and demonstrate impact on new campaigns.
What are we looking for ?
The must-haves - someone with experience of:

Strong copy writing and communication skills

Working experience running D2C campaigns through email and app communication channels such as in-app and push messaging.

Experience carrying out A/B testing.

Working to a budget, meeting deadlines for multiple projects and ensuring ROI on campaigns

Dashboarding / Analytics tools (Adobe analytics / Mixpanel / Amplitude / Tableau / Qlik / PowerBI / Looker)

Accuracy and attention to detail

Understanding of user/product life cycles

An understanding of the variable factors that influence behavioural data

A willingness to explore new concepts and question data and findings
What you'll get:
We like to give more than we take so here are some of our benefits:
A competitive base salary
Potential to earn share options
6x salary life assurance policy
Income protection policy
Access to the YuLife app (which includes a tonne of well-being rewards, discounts and exclusive offers as well as access to Meditopia and Fiit)
£20 per month to a "be your best Yu" budget
Unlimited Monthly professional coaching with More Happi
OnHand Volunteering app

£25 monthly budget with Learnerbly
Financial coaching with Octopus Money coach 
Generous parental leave policies
Remote working packing; includes laptop, desk, chair etc.
Contributory pension = 3% of basic
24 days Annual Leave + 1 'personal' day (e.g your birthday, moving house anything else that is for Yu!)
Remote and flexible working
Currently our lovely office in Shoreditch is available if people want (and only if they want) to use it.
Here is our framework and principles around hybrid working at YuLife. 
Our values: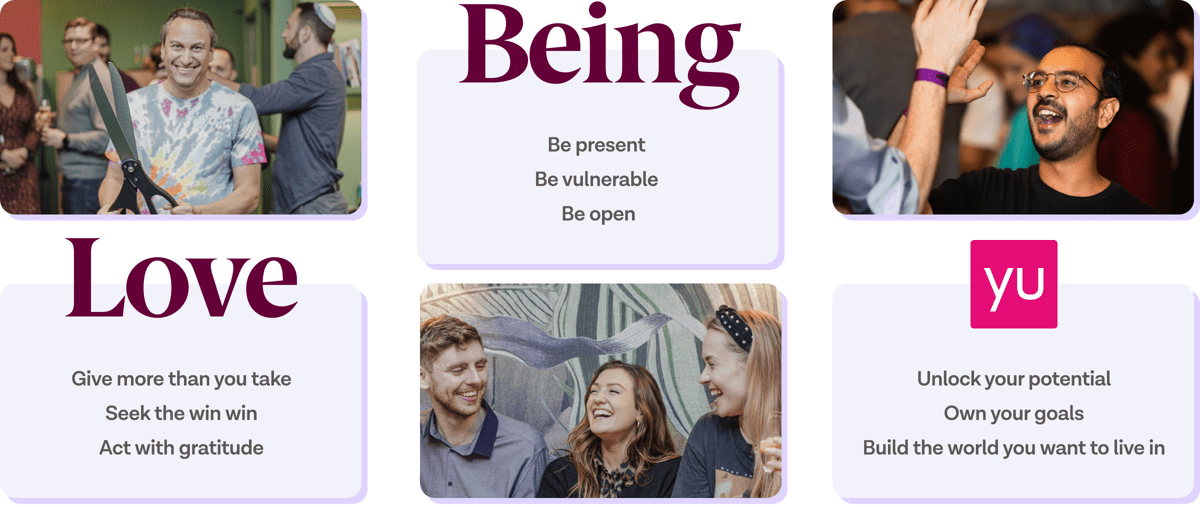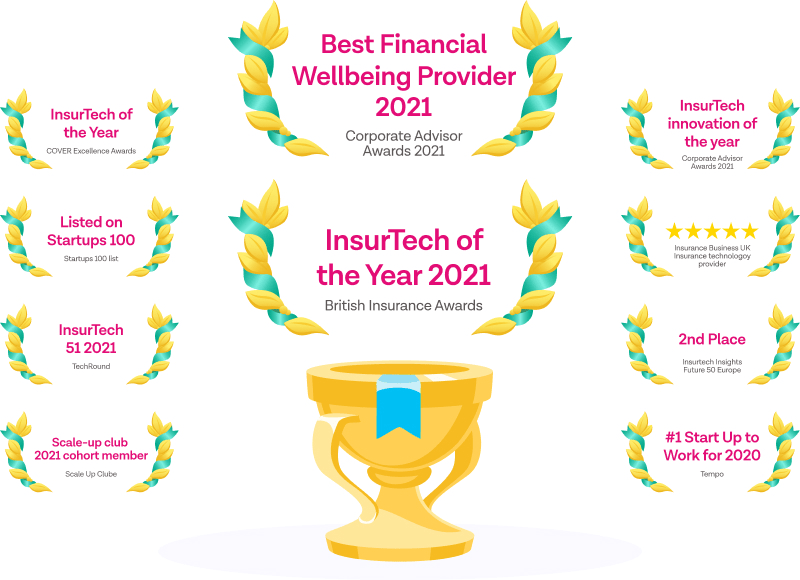 YuLife company culture:
Read what one of our key investors has to say about our culture ›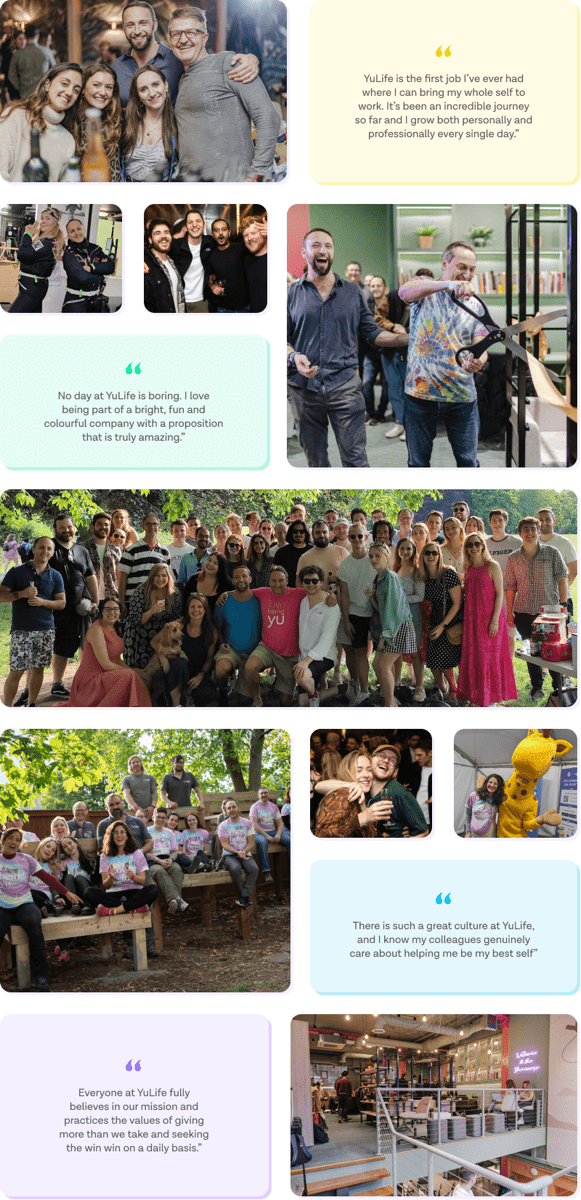 We're more than just life insurance!