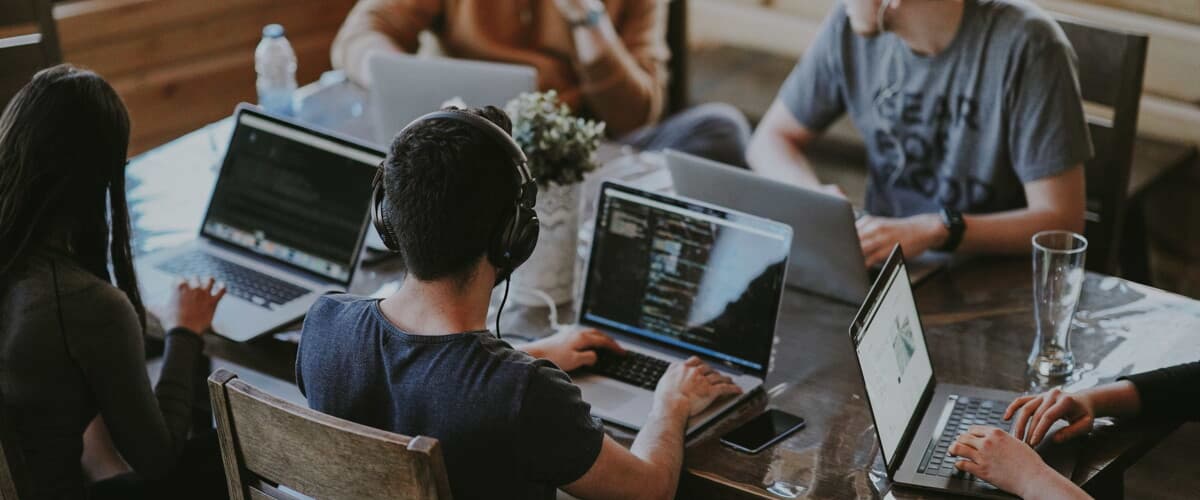 Head of Sales - South Africa
Flexible remote • South Africa
An exciting and challenging opportunity to work with our founders to develop & launch our product & proposition in South Africa
About us:
At YuLife we're transforming products once focused on death and illness into ones that inspire life and reward living — turning old-fashioned employee perks into life-enhancing benefits.
We are explorers, dreamers and innovators. We're on a journey to build the best platform in the world, but we can't do it without people like you, leading the way.
Forget the stereotypical tech companies of the past. Embrace the unconventional, exercise your imagination and help alter the future with YuLife.
Which hopefully is where you come in.

The journey so far:
What's happened over the last few years: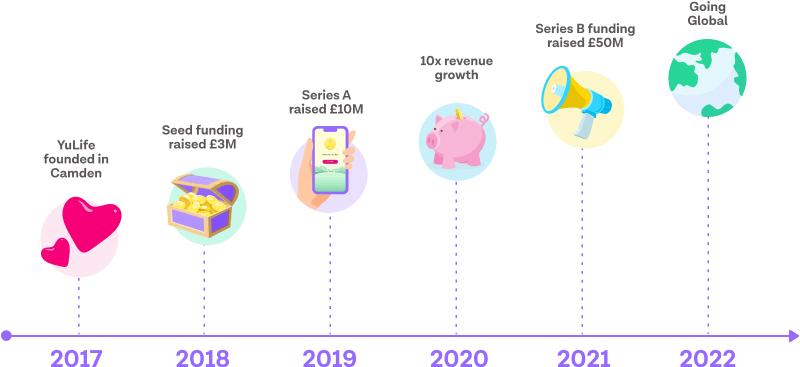 The 2022 mission is to reach 1 million lives!
The role:
As Head of Sales (South Africa), you would be responsible for Yulife SA's overall Go To Market (GTM) and distribution strategy, and deliver on revenue generation and growth. You will recruit and build out the industry's top talent to create a world class distribution team. You will leverage strong existing networks in the employee benefits market in SA to create win-win relationships and establish Yulife as a leading brand in the SA insurance market.

Over the next 12 months you'll be instrumental in:
Creating and executing the GTM and distribution strategy of Yulife SA
Establishing a world class distribution team aligned with the Yulife culture and values
Ensure that Yulife SA meets it's revenue and profitability targets
Utilise your networking skills to establish Yulife as a leading brand in the SA insurance market
You'll have specific responsibility for:
South Africa's overall Go To Market Strategy, distribution and revenue generation
Defining and executing the GTM strategy for the South African market including key broker partnerships and alternative distribution channels
Managing and overseeing the growth strategy for YuLife South Africa
Evaluating new business opportunities that are consistent with Yulife's strategy
Working collaboratively with founders and UK senior leadership, and other department heads to advance the organisation's goals ensuring successful execution of the GTM strategy and profitable corporate growth
Managing top line sales growth and work with other department heads to achieve bottom line profitability for YuLife
Conducting regular and consistent research on the latest market best practices and trends in order to constantly keep the business ahead of the latest market trends.
Training and coaching various channels to sell YuLife's value proposition
Building strong relationships with external partners and consumers and regularly attending and organising external events to promote the Yulife brand.
Recruiting and building out the industry's top talent for the South African distribution team
Establishing and communicating team vision, lead team towards goals, create efficiencies for colleagues and processes, and act as quality control and oversight for team members in the South African Distribution team
What are we looking for?
Ideally a master's degree (PhD preferred) in Communications, Marketing, Business Management, Business Administration, or any other related field. The equivalent of this in working experience is also acceptable for the position.
At least 10 years of working experience in a sales position within a fast-paced and dynamic business environment, preferably working in the position of a Sales Manager or above.
The candidate must also have a proven and successful ability to lead a group of sales personnel towards growth in enhanced sales volumes and enhanced revenue generation, while displaying exceptional leadership skills and confidence.
A suitable candidate will also have had experience evaluating product/market situations and analysing raw data and information, transforming it into actionable sales strategies and approaches.
Possess exceptional communication skills to enable effective communication across the sales team and wider company. You should have clear evidence of this in the past including presenting at external events, delivering complex messages in a simple manner across various stakeholders internally and doing so whilst keeping team culture at the forefront of your mind.
What you'll get:
We like to give more than we take so here are some of our benefits:
A competitive base salary
Potential to earn share options
6x salary life assurance policy
Income protection policy
Access to the YuLife app (which includes a tonne of well-being rewards, discounts and exclusive offers)
£20 per month to a "be your best Yu" budget
Unlimited Monthly professional coaching with More Happi
Monthly budget with Learnerbly
Remote working packing; includes laptop, desk, chair etc.
Contributory pension = 3% of basic
24 days Annual Leave + 1 'personal' day (e.g your birthday, moving house anything else that is for Yu!)
Remote and flexible working
Here is our framework and principles around hybrid working at YuLife. 
Our values: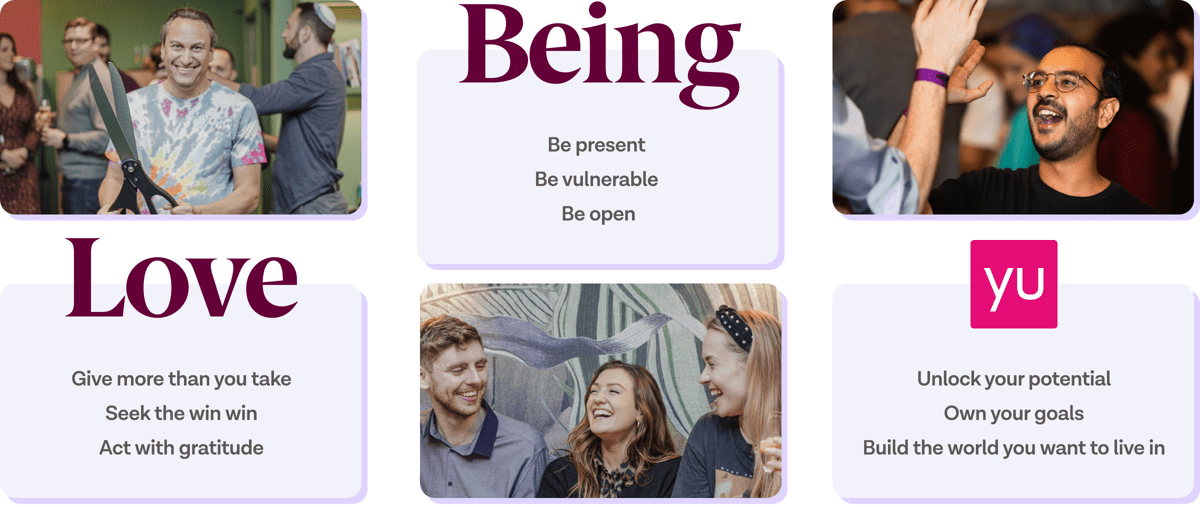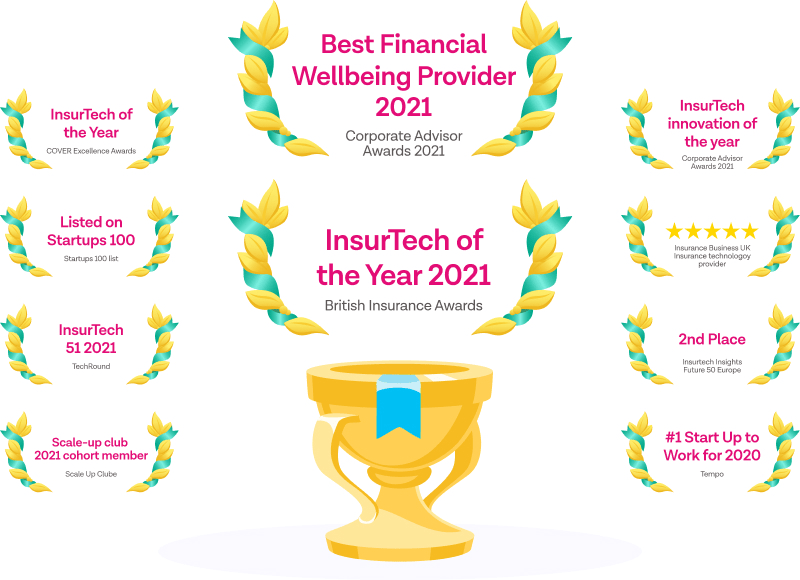 YuLife company culture:
Read what one of our key investors has to say about our culture ›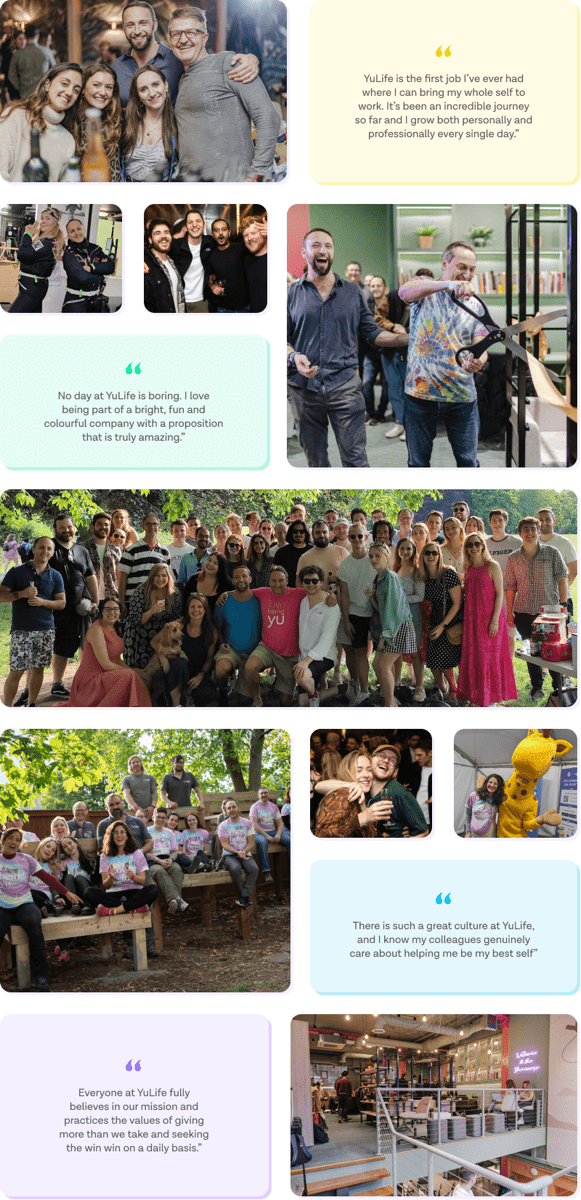 We're more than just life insurance!