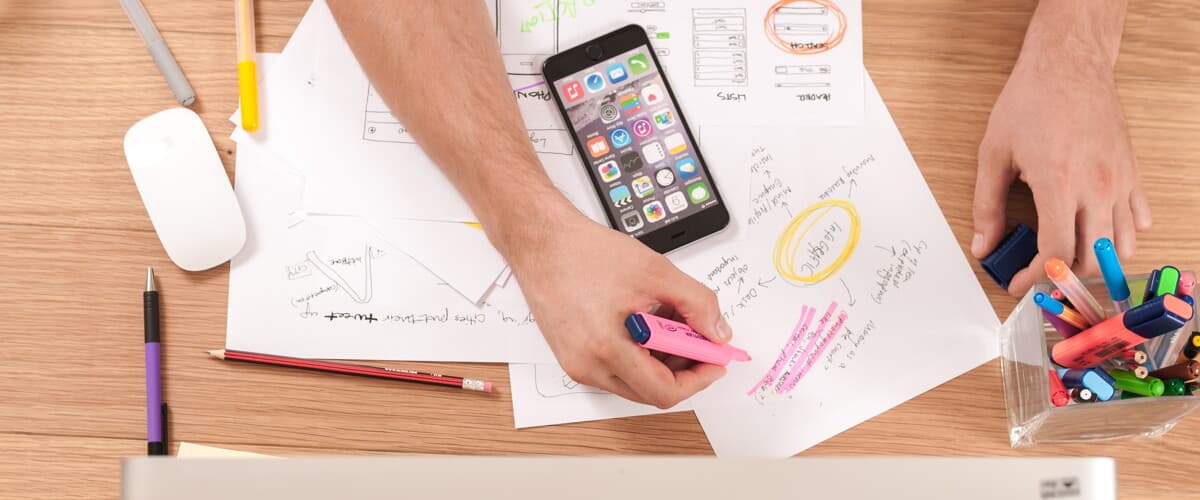 UX Researcher
Product and Tech • Fully remote
We're looking for a User Researcher who can help us understand our customers, their needs, and how we can better shape our products to meet them.
About us:
YuLife is creating a new kind of insurance company. Our mission is to inspire people to live longer, happier and healthier lives. We provide life insurance to companies and drive employee wellbeing through meaningful, engaging and rewarding experiences inspired by our favourite games, apps and products.
We live by a simple principle and we strive to translate this to our products: always seek the win-win in everything we do. This means we should always be giving more than we take with every interaction. Sounds good?
The journey so far:
What's happened over the last few years: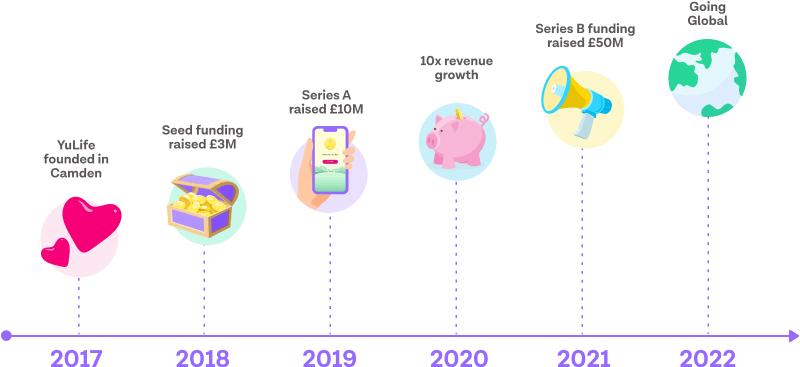 The 2022 mission is to reach 1 million lives!
The role:
As a User Researcher, you will be a key figure helping us develop a deep understanding of our users and wider audiences.
You'll be defining and conducting investigations into customer experiences for our current and prospective products. Working closely with design, product, and the wider business, communicating findings and helping shape products delivered across multiple platforms. This includes our international expansion, and navigating the challenges of localised audiences; from the UK, to USA, SA and beyond.
Day to day responsibilities include, but are not limited to:
Planning and running qualitative studies; including diary studies, field observations, user interviews, remote and in-person usability studies for existing and future products.

Identifying actionable insights through quantitative methods such as large scale surveys, and using basic statistical concepts to ensure findings are robust.

Exposing the root causes of wider customer experience issues. Helping to develop high level storyboards and journey mapping that communicate the goals, motives, and means by which groups of customers use, or will use, a given product.

Collaborating closely with our data scientists to build, maintain and communicate our user and prospect personas; helping marry up qualitative insights with our robust quantitative analytics.

Working closely with Product Managers, Product Designers, Engineers and other User Researchers to generate hypotheses and plans for high-impact research; helping to bring the user to the heart of our design process.

Identifying and analysing competitor solutions and processes, deconstructing what factors make winners within our marketplace and beyond.

Acting as a champion of your field and UX research practice, principles and processes. Helping to empower other roles in the business to get involved in research.
We want to work with enthusiastic, empathetic and hard-working people who are ready to go on this wild and rewarding journey with us. Somebody practical and proactive, who actively seeks feedback and wants to grow and give back.
You'll be working with multiple squads across the business, helping to bring to life next-level, gamified products that will transform the way insurance is seen; helping people on a path to physical, mental, and financial wellbeing.
The ideal candidate will have:
Knowledge of research techniques, including usability testing, focus groups, diary studies, ethnographic observation, survey design and co-creation workshops

The ability to deliver relevant and effective insight under varying project constraints

A background in human-computer interaction, psychology, sociology, or a related field

Excellent communication and collaboration skills across all levels with an ability to champion design thinking and influence key stakeholders


We'd Love it if you have:

Have an interest in video game design or just love gaming (in an insurance company? - you better believe it!)

 What you'll get:
We like to give more than we take so here are some of our benefits:
A competitive base salary
Potential to earn share options
6x salary life assurance policy
Income protection policy
Access to the YuLife app (which includes a tonne of well-being rewards, discounts and exclusive offers as well as access to Meditopia and Fiit)
£20 per month to a "be your best Yu" budget
Unlimited Monthly professional coaching with More Happi
OnHand Volunteering app

£25 monthly budget with Learnerbly
Financial coaching with Octopus Money coach
Generous parental leave policies
Remote working packing; includes laptop, desk, chair etc.
Contributory pension = 3% of basic
24 days Annual Leave + 1 'personal' day (e.g your birthday, moving house anything else that is for Yu!)
Remote and flexible working
Currently our lovely office in Shoreditch is available if people want (and only if they want) to use it.
Here is our framework and principles around hybrid working at YuLife. 
Our values: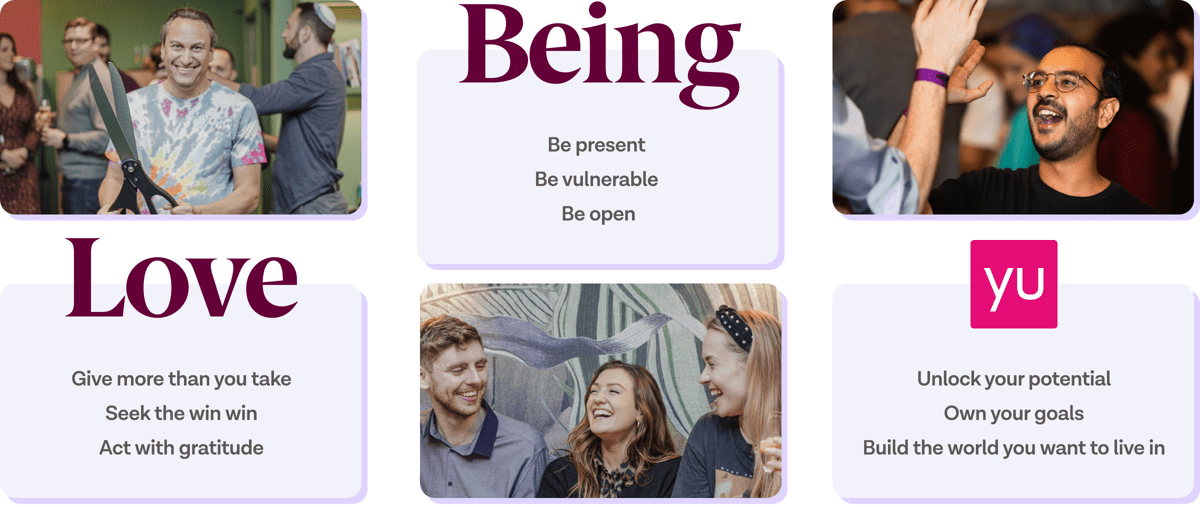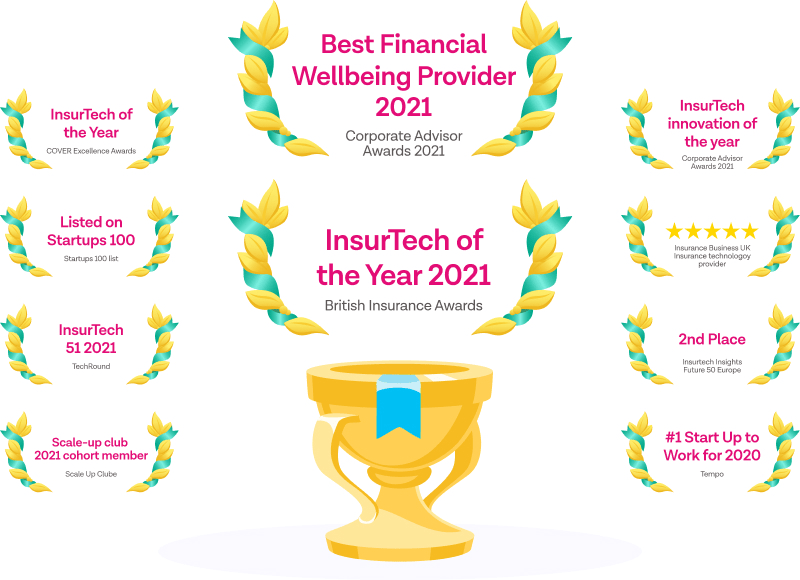 YuLife company culture:
Read what one of our key investors has to say about our culture ›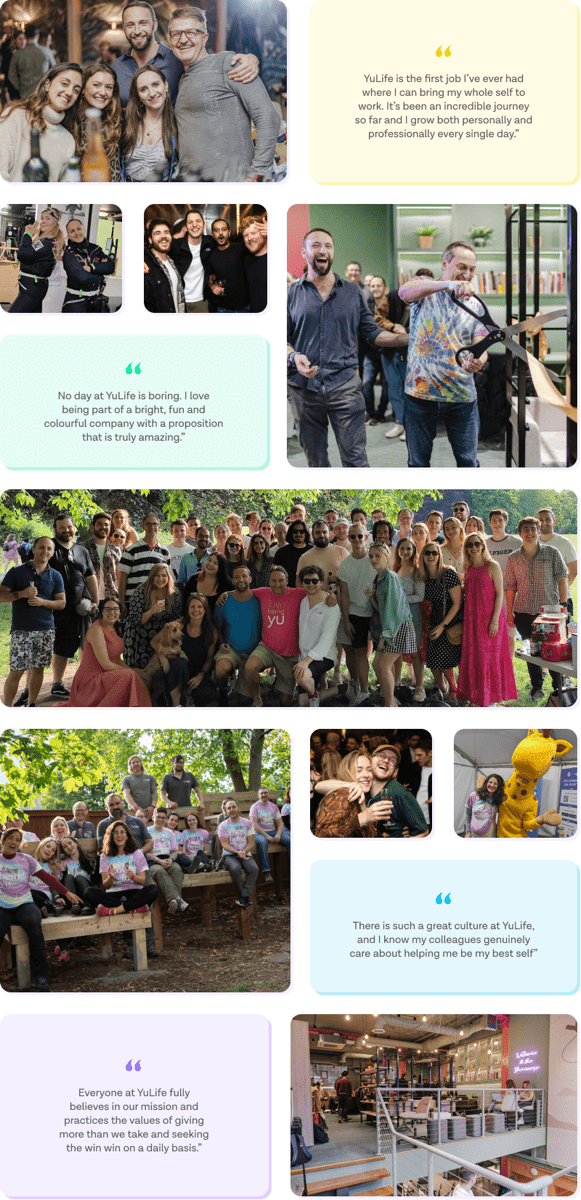 We're more than just life insurance!