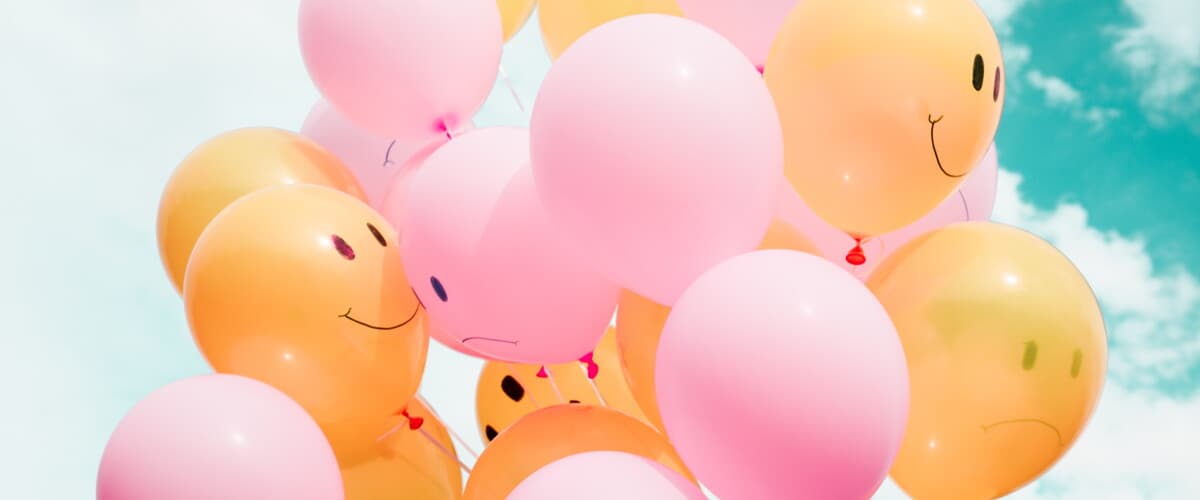 Customer Experience/Live-Ops Lead (USA REMOTE PST time zone)
Growth • Fully remote
Brand new role to join our scaling US LAUNCH SQUAD/Customer Happiness Team, combining live customer engagement and community management.
About us:
YuLife is creating a game changing insurance & wellness company. We believe that the way to help people love who they are and unlock their inner potential, is to make their wellbeing an integral part of their everyday lives. And since we spend so much of that time at work, it's vital that we find ways to improve people's health at work as well as outside it. That's why we take traditionally standard services like group risk insurance and reinvent them. We've turned products about death & sickness into solutions that inspire life. One that encourages people to put themselves first and bring wellbeing into work in simple, accessible, and rewarding ways. 

The journey so far:
What's happened over the last few years: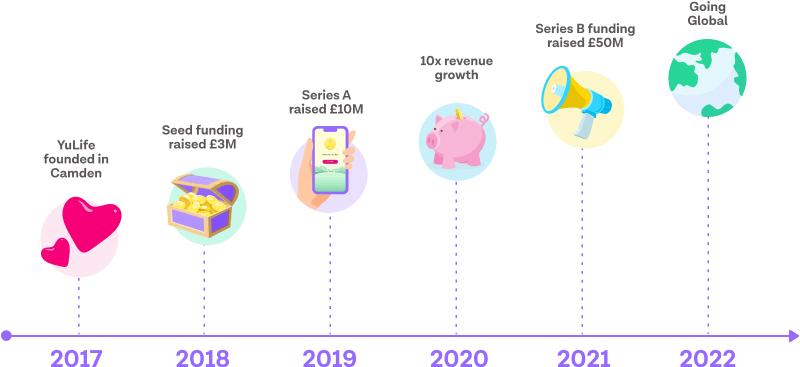 The 2022 mission is to reach 1 million lives!
The role:
We are looking for an inquisitive, creative and forward thinking Customer Experience Lead/ Live-Ops Manager to join our scaling US LAUNCH SQUAD/Customer Happiness Team . You will be instrumental in rolling out YuLife in the US as well as localising the YuLife experience to boost engagement. This role will require somebody to work PST hours - 9am to 6pm.
You will be a customer champion, responsible for supporting our end users set up and use YuLife and willing to go the extra mile for our users to make sure every customer has a memorable and positive interaction.
You must be a self-starter with high energy, someone who is actively looking for, and will be motivated by being part of, a growing business with an enormous market opportunity. This is an exciting new role at a quickly growing insurtech startup…..not for the unorganized or inflexible, which requires a ground up approach, entrepreneurial attitude, with an ability to move independently, while developing relationships externally and internally to support your (and your future team's) success

Primary responsibilities include:
You will play a key part in launching YuLife in the US by supporting and engaging our end users.
Create a robust system to continuously improve user experience, engagement and retention by researching our user base, conducting experiments and implementing meaningful iterations.
You'll be a valuable part of our Customer Happiness Team: A Professional Problem Solver. You are the friendly face who will be able to help our customers with whatever questions they may have.
Convey users thoughts, feelings and experiences into actionable insights - driving the app and overall YuLife experience forward.
Analyze qualitative and quantitative user feedback trends and share with Product Management to help continuously improve the YuLife product.
Localise (localize…) parts of the YuLife experience to be relevant to the US market. Your insights will help our US users feel as loved as our current UK user base.
Supporting a variety of efforts associated with launching YuLife in the US.
Over the next 12 months you'll be instrumental in:
Launching YuLife in the United States. You will be a core part of the US team and integral to the success and international growth of the business.
Writing and proofing copy for campaign materials.
Devising integrated campaigns that encourage activation and retention of those engaging with the YuLife app.
Responding to B2C clients with regards to product and app queries, bugs and providing general app support.
Delivering insight that helps us refine new features across multiple products.
Being the voice of our user base in the US and helping drive business decisions to best suit them.
Helping us raise a stellar Series C.
Where you will sit in the org:
You will be part of the Customer Happiness team and the US Launch Squad, your role will help bridge the gap between the teams.
What are we looking for ?
 The must-haves - someone with experience of:
Experience dealing with customers
A positive attitude and a friendly nature
A proactive attitude and willingness to explore new concepts and drive initiatives.
Strong copy writing and communication skills
Accuracy and attention to detail
Working experience running D2C campaigns through email and app communication channels such as in-app and push messaging.
YuLife Benefits

 Financial Benefits
Competitive base salary
Potential to earn share options
401(k) retirement savings plan with a 5% employer contribution
24 days PTO + 1 'personal' day (e.g your birthday, moving house etc.)
Paid company holidays
Parental Leave policy
Medical/Disability/Life & Voluntary Benefits
100% employer paid medical, dental, and vision coverage
Life coverage
Short and long term disability coverage

Access to voluntary benefits for increased protection
Additional Perks
YuLife app & rewards
Employee Assistance Program (EAP)
Monthly wellbeing stipend to "Be your Best Yu"
Unlimited professional coaching sessions with More Happi

A shiny MacBook Pro or whatever you need to do your best work
Contributions to working from home office equipment
Flexible and remote working arrangements
HIIT and Yoga sessions
Access to Learnerbly with a dedicated budget towards L&D through webinars, books, podcasts, journals and much more
Our values: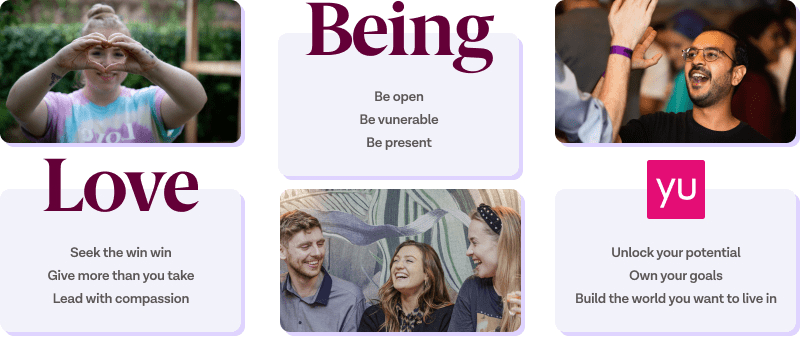 YuLife company culture:
Read what one of our key investors has to say about our culture ›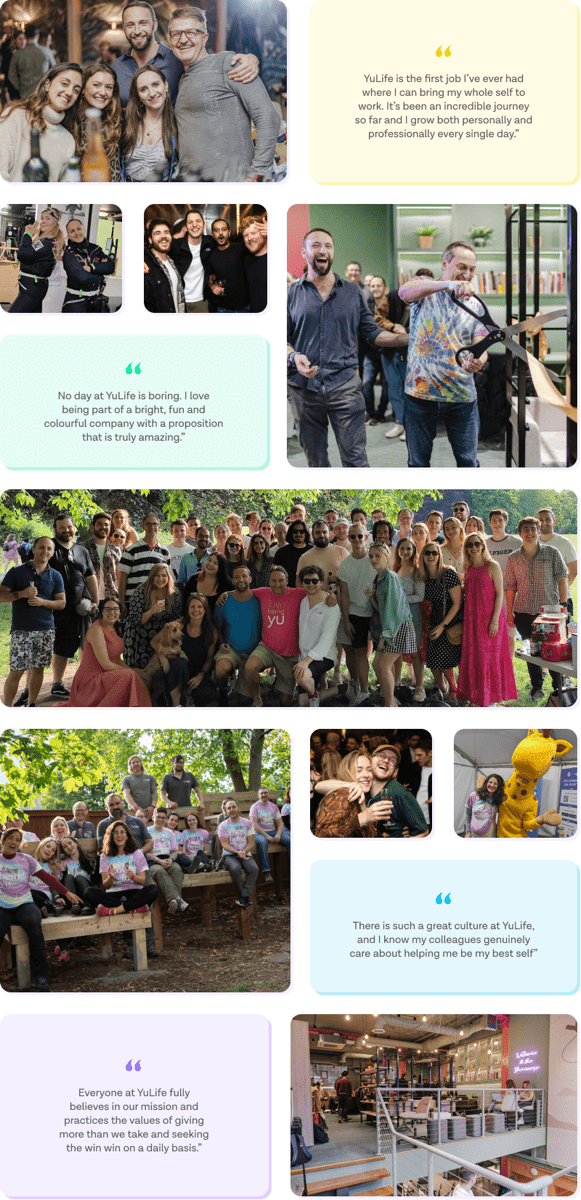 We're more than just life insurance!