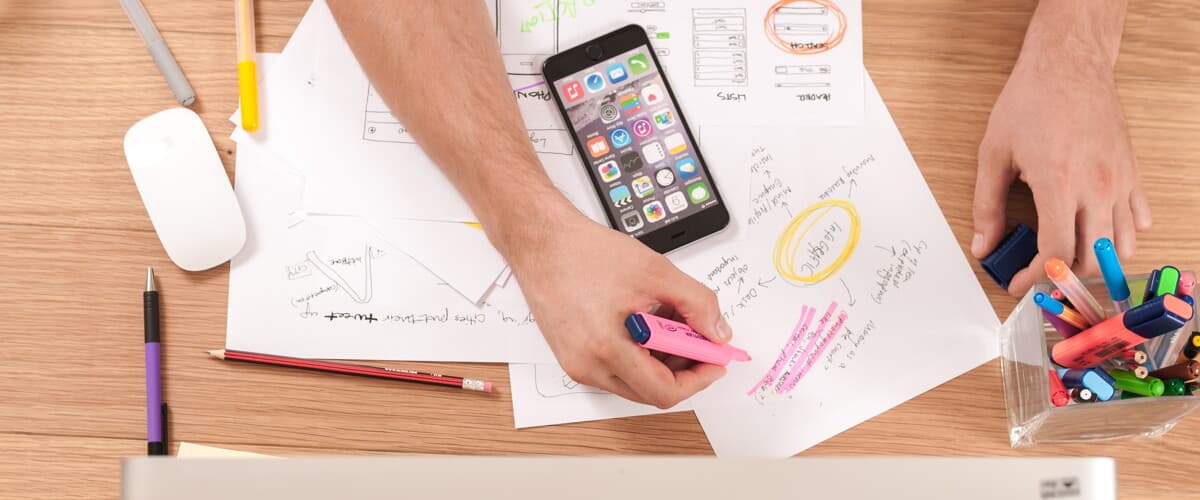 Product Manager (South Africa)
Flexible remote • South Africa
An exciting and challenging opportunity to work with our founders to develop & launch our product & proposition in South Africa
About us:
At YuLife we're transforming products once focused on death and illness into ones that inspire life and reward living — turning old-fashioned employee perks into life-enhancing benefits.
We are explorers, dreamers and innovators. We're on a journey to build the best platform in the world, but we can't do it without people like you, leading the way.
Forget the stereotypical tech companies of the past. Embrace the unconventional, exercise your imagination and help alter the future with YuLife.
Which hopefully is where you come in.

The journey so far:
What's happened over the last few years: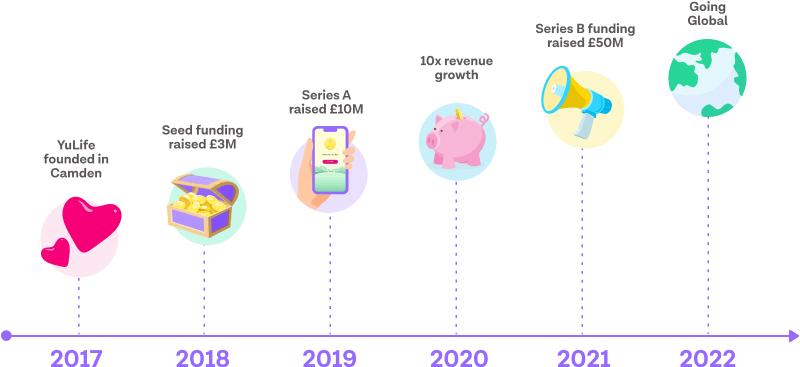 The 2022 mission is to reach 1 million lives!
The role:
As a Product Owner at YuLife, you will be responsible for closely collaborating with the South Africa (SA) Yulife MD to support the development of the SA product vision and strategy. This will involve conducting market research, engaging in concept testing, creating artefacts such as journey maps and user story maps to visualise needs/opportunities and bring to life the engaging experiences we aspire to create to help those we serve live their best lives.
You will be responsible for owning the execution of the strategy, which will involve working with external partners and internal colleagues across the business to gather requirements, define features/user stories, and deliver through effective backlog management. This role will present the opportunity to work across multiple squads (agile teams) and the product management team to ensure capabilities required to enable the SA vision and associated outcomes are well-defined, prioritised, and communicated effectively through a product roadmap.
You will also be responsible for operational readiness and mobilising the right people to prepare the business, external partners, and customers to effectively accept, use and support new capabilities before they are delivered to production.
You'll have specific responsibility for:
Using your market, technology, and business knowledge to support creation of the YuLife SA product vision and strategy. This will require building strong commercial awareness and staying on top of relevant trends through independent and continuous research and exploration. Supporting strategy validation and refinement will also be core responsibility in the role.
Leading the execution of the product strategy in alignment with the long-term vision and with an eye towards achieving near-term target outcomes. This will require working with a variety of external and internal partners, including multiple squads (agile teams) to bring the vision to life.
Conducting customer research, including user interviews, gathering user feedback, interpreting qualitative and quantitative data in order to create informed customer personas, imagine inspiring user experiences, as well as identify and prioritise enabling capabilities.
Partnering with a variety of stakeholders and subject matter experts, both internal and external, to elicit, capture, analyse, refine, sequence, and prioritise needs associated with specific features and user stories associated with executing on the product strategy.
Regular refinement of product roadmap and backlog based on continuous discovery, analysis, and integration of customer feedback. This role is responsible for writing features, epic, and user stories, including acceptance criteria.
Being courageous, taking smart risks, leading authentically, and rallying and aligning key stakeholders and partners to position YuLife for success, both in the long-term and near-term.
Driving alignment through building, maintaining, and communicating product roadmaps to a variety of internal and external stakeholders on a regular cadence. Responsible for ensuring effective product planning over near, mid, and long-term horizons through continuous refinement of the program and product backlog.
Continuously improving understanding and application of Agile/Scrum best practices and helping others do the same.
Ensuring capabilities prioritised in the backlog also balance technical bodies of work required for long term system integrity.
End-to-end operational readiness strategy and execution required to maximise utilisation and value out of new capabilities before and after they are moved to production. This includes responsibility for driving digital adoption and ongoing engagement with released capabilities.
Ensuring capabilities prioritised in the backlog also balance technical bodies of work required for long term system integrity.
Defining success for investments (business case and cost-benefit analysis), tracking benefit realisation on solutions that have moved to production, monitoring KPIs, conducting root cause analysis to understand key results drivers, and incorporating insights gained into product enhancements and strategy.
The must-haves - someone with experience of:
Minimum 3 years of commercial product ownership experience and 5+ years in financial services required (group risk insurance experience a huge plus)
Demonstrated ability to effectively build/communicate journey maps, user story maps, product roadmaps, and other industry standard artefacts to bring the product vision to life and create inspiring and desirable customer experiences that deliver on business outcomes, and are technically sustainable.
Experience defining requirements, building and managing product backlogs, and delivering on target outcomes with quality.
Understanding of product management lifecycle and agile methodologies. Experience with acumen to effectively collaborate with architects, designers and all dev ops team members.

Outcome oriented professional with strong analytical skills. Able to work at the user story level while keeping the big picture in mind and ensuring backlog content and priority connects and advances the overall vision.
Proven ability to efficiently and effectively solve multi-faceted problems involving multiple stakeholders–both internal and external. Creative thinker who can confidently express complex ideas in an articulate, concise manner.
Excellent interpersonal skills and track record of engaging with customers/ cross-functional stakeholders at all levels, in a wide variety of situations, and demonstrated ability to listen, influence, and relate to customers/stakeholders in their own language.
Team player who leads inclusively, puts team above self, and can effectively provide tactful guidance.
Demonstrates high levels of ownership and accountability. Self-starter and ability to effectively chart a path forward in ambiguous situations or under a general direction.
Strong skills in conducting and analysing qualitative and quantitative data using tools like MS Excel, Tableau, Qualtrics, etc, in order to uncover insights and produce actionable recommendations.
Excellent verbal, written communication and presentation skills, including the ability to translate technical subject matter to nontechnical audiences.
+ the nice-to-haves:
Experience in the SA employee benefits or insurance industry is a plus.
Product Owner certification (CSPO, SAFe POPM, etc) is highly preferred but not required.
Experience with Productboard is desirable but not required.
Experience using Jira or similar backlog management tool preferred.
What you'll get:
We like to give more than we take so here are some of our benefits:
A competitive base salary
Potential to earn share options
Life assurance policy
Income protection policy
Access to the YuLife app (which includes many well-being rewards, discounts and exclusive offers)
£20 per month to a "be your best Yu" budget
Unlimited Monthly professional coaching with More Happi
Monthly budget with Learnerbly
Remote working packing; includes laptop, desk, chair etc.
24 days Annual Leave + 1 'personal' day (e.g your birthday, moving house anything else that is for Yu!)
Remote and flexible working
Here is our framework and principles around hybrid working at YuLife. 
Our values: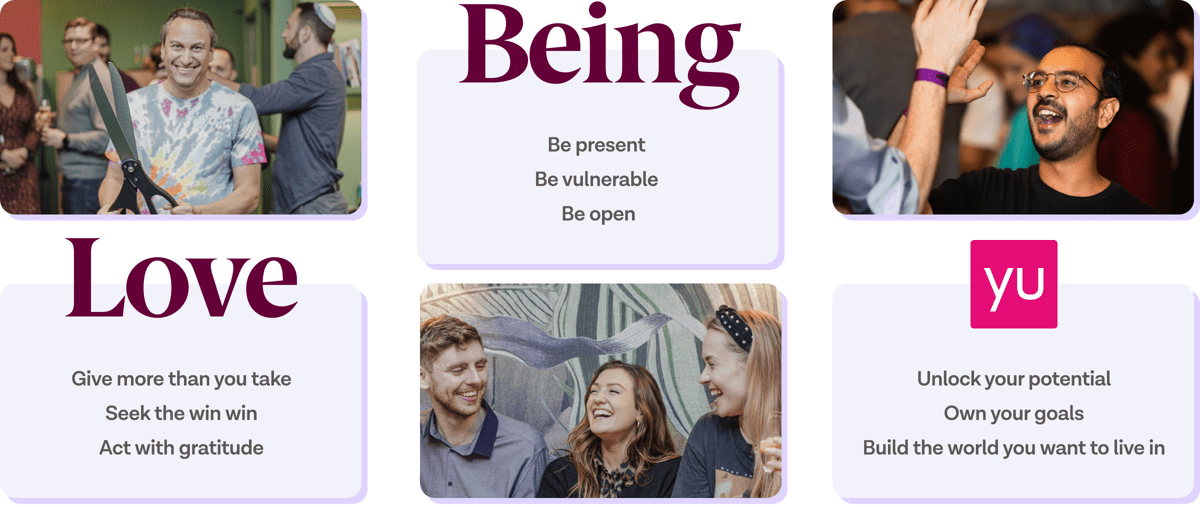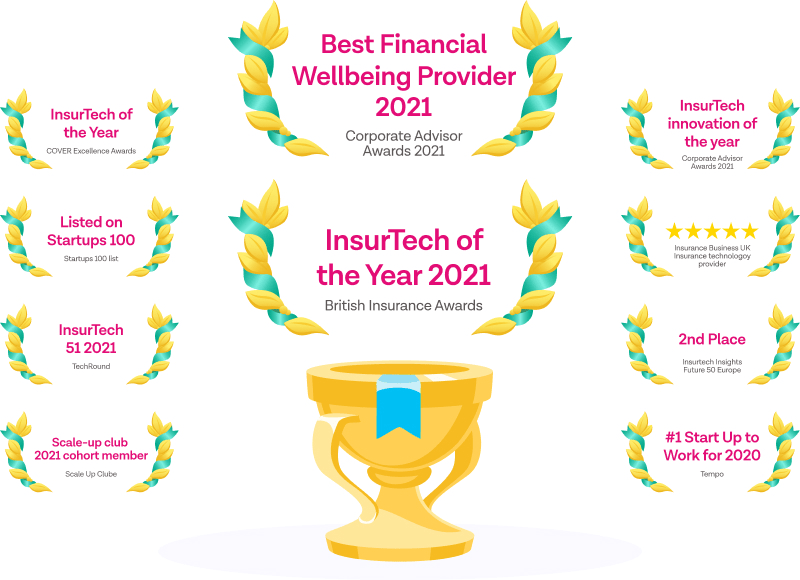 YuLife company culture:
Read what one of our key investors has to say about our culture ›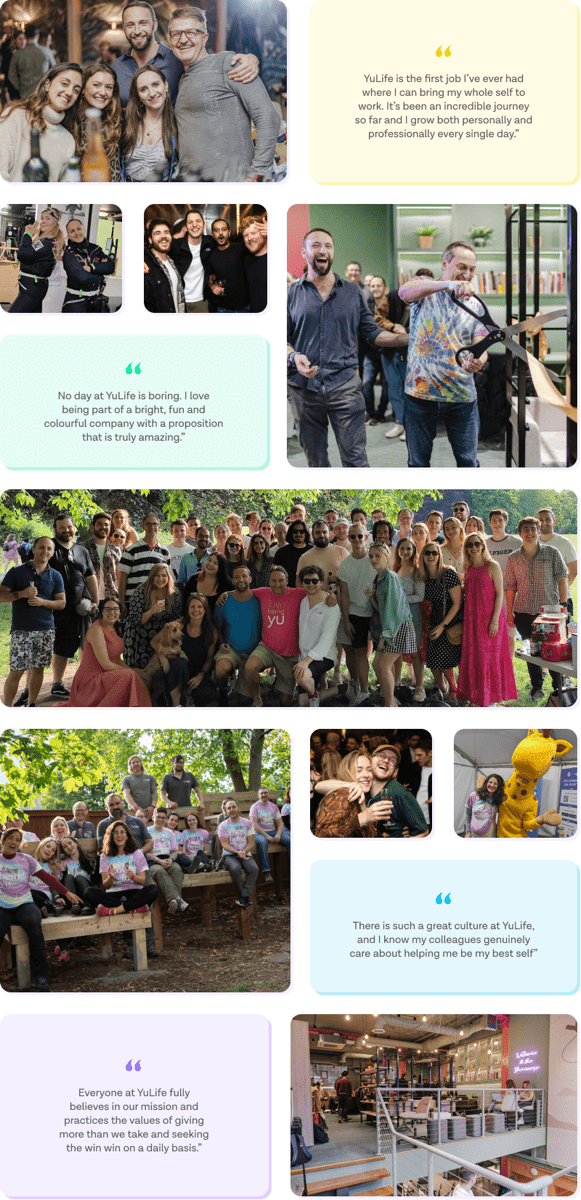 We're more than just life insurance!