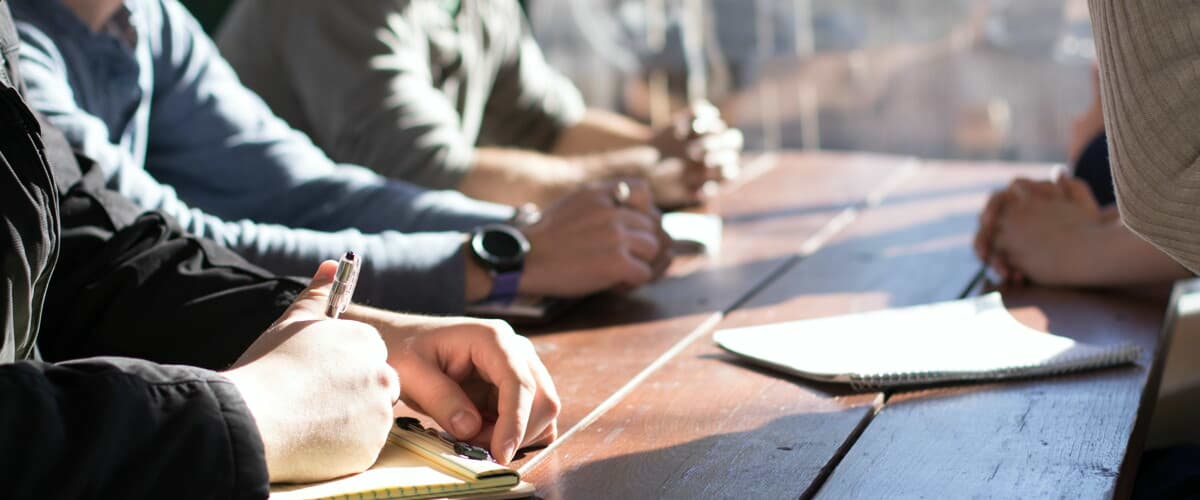 Customer Success - Midmarket & Enterprise Account Manager
Growth • Flexible remote • Old Street
As a core part of the Client Success team at YuLife your mission is to bring insurance to life for our clients, ensuring they understand their YuLife membership, use our product & get value from it.
About us:
YuLife is creating a new kind of insurance company. Our mission is to inspire people to live longer, happier and healthier lives. We provide life insurance to companies and drive employee wellbeing through meaningful, engaging and rewarding experiences inspired by our favourite games, apps and products.
We live by a simple principle and we strive to translate this to our designs: always seek the win-win in everything we do. This means we should always be giving more than we take with every interaction. Sounds good?

The journey so far:
What's happened over the last few years: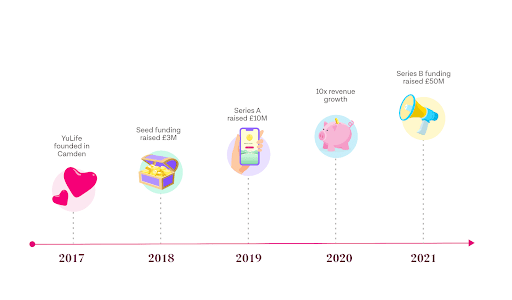 The 2022 mission is to reach 1 million lives!
The role: 
This role forms a core part of the Client Success team at YuLife. Our team's mission is to bring insurance to life for our clients. As a team, we work to ensure that our clients understand their YuLife membership, use our product & get value from it by retaining our existing book of business and finding opportunities for growth (upsell and cross sell).
The successful candidate will have deep experience in
Enterprise/B2B account management with high touch account management (up to 10 accounts)
Customer success and/or sales, with a track record in enterprise SaaS adoption and commercial negotiations for £1M+ ARR
Finding creative ways to develop custom programs to ensure customer satisfaction, product adoption and ROI
This is a hands-on, high execution role in a fast paced environment which requires excellent business, negotiation and technical skills.
You will be working as part of the Account Management team acting as the strategic voice of YuLife for largest and most complex customers. Day to day, you will own the post sales and launch of YuLife, end to end relationship of each account with a focus on the clients success including product adoption/feedback loops, executive and broker engagement, renewals/commercial discussion and key stakeholder management. You will become a true partner to our largest clients and internal teams in order to bring customer feedback and priorities back to the business and improve our product.


Day to day responsibilities include, but are not limited to:
You will be responsible for looking after less than 10 clients, with a book of business of multi-million pounds. 
Be the main point of contact for your book of business and build rapport with clients, brokers, and internal stakeholders
Identify renewal & growth opportunities in each account, ensure adoption is maximised and execute on the plan
Ensure client retention for your book of business and churn avoidance
Regularly connect with your clients to identify, document and address their needs and connect them with relevant internal teams
Facilitate agreed client / YuLife action items and secure internal resources from other teams to execute on next steps
Be a product expert and a functional YuLife consultant to help clients increase adoption
Get executive buy-in for product, vision and commercial plans
Give accurate information to clients and ensure that they are satisfied
Facilitating case studies and PR with marketing, or arranging & hosting customer events
The ideal candidate will have:
5+ years experience in a Customer Success or account management role working with complex and enterprise accounts
Strategic thinker who is comfortable in a fast-paced, always-on, highly ambiguous start-up environment
Ability to adapt to a rapidly changing product and respond strategically to customer needs
Exceptional interpersonal skills and the ability to develop strong working relationships at all levels of management, both inside and outside YuLife
Experience meeting multiple objectives in an entrepreneurial environment with little supervision
Negotiation, commercial skills and communication skills
Experience working with cross functional teams, such as Account Management, Sales, Product, Marketing and acting as the Voice of the Customer
Knowledge of life insurance or group risk is a bonus
A love of being organised
What you'll get:
We like to give more than we take so here are some of our benefits:
A competitive base salary
Potential to earn share options
6x salary life assurance policy
Income protection policy

Monthly wellbeing budget to "Be your Best Yu"
Contributions to working from home office equipment
Contributory pension - 3% of basic
24 days of annual leave + 1 day to celebrate your birthday
Flexible and remote working arrangements (read more below)
A shiny MacBook Pro or whatever you need to do your best work
Cycle to work scheme
HIIT and Yoga sessions
Access to Learnerbly with a dedicated budget towards L&D through webinars, books, podcasts, journals and much more
More Happi - 2 professional coaching sessions every month
Find out more about our Hybrid Working policy.

Our values: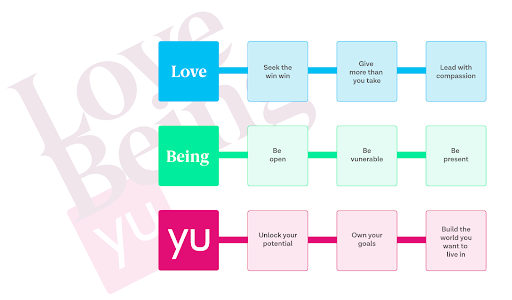 YuLife company culture:
Read what one of our key investors has to say about our culture ›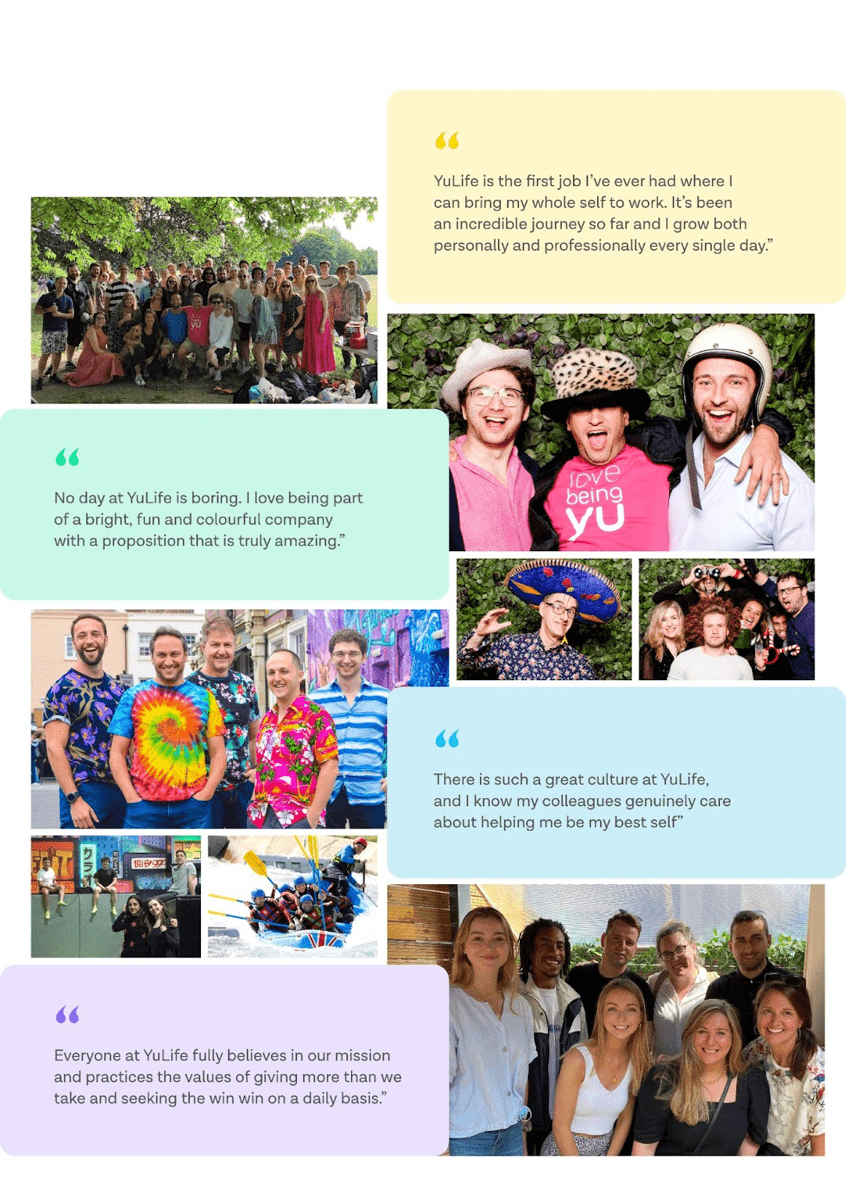 We're more than just life insurance!