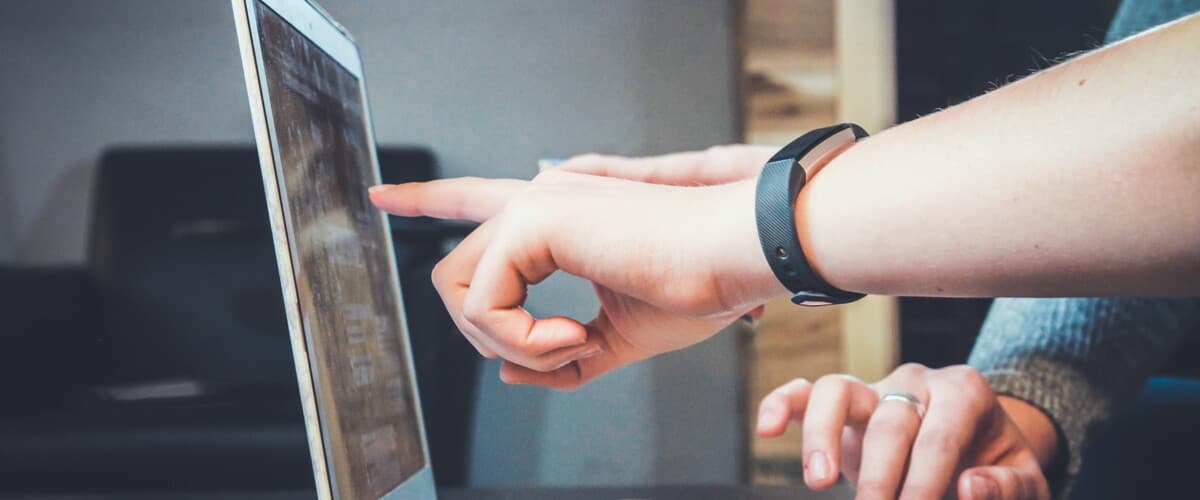 Sales Development Representative
Growth • Flexible remote • Old Street
You will be a high-achieving Sales or Business Development Representative wanting to pursue an ambitious career in Sales with excellent prospecting skills!
About us:
At YuLife we're transforming products once focused on death and illness into ones that inspire life and reward living — turning old-fashioned employee perks into life-enhancing benefits.
We are explorers, dreamers and innovators. We're on a journey to build the best platform in the world, but we can't do it without people like you, leading the way.
Forget the stereotypical tech companies of the past. Embrace the unconventional, exercise your imagination and help alter the future with YuLife.
Which hopefully is where you come in.

The journey so far:
What's happened over the last few years: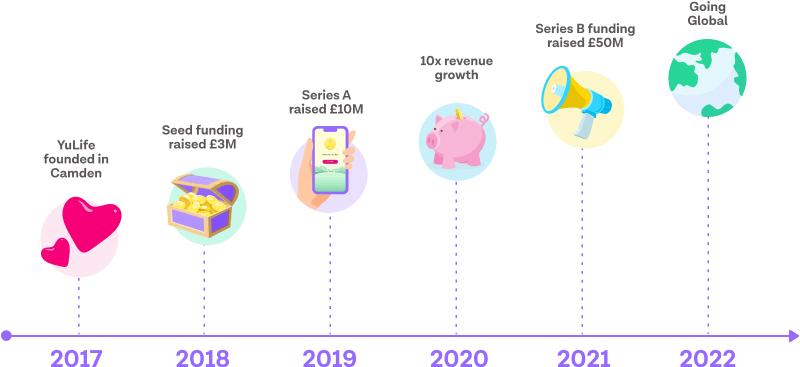 The 2022 mission is to reach 1 million lives!
The role:
As an SDR on our Wellbeing & Engagement Team, you will be a primary contributor to our quickly growing, high visibility team. You will be primarily working on outbound lead generation for insurance opportunities (200-2500 employee opportunities). You will have to demonstrate passion for helping organisations drive value whilst providing a holistic wellbeing solution that inspires life & wellbeing on a daily basis. If working in a high-paced, exciting and rewarding team sounds exciting, then this is the role for you!

**Please note this is a remote position however you will be required to travel to London once per month.**

You'll have specific responsibility for:
Cold calling, email prospecting, LinkedIn networking
Managing strong collaborations with your AE, fellow SDRs, marketing, and revenue operations team.
Ability to build relationships quickly during a short pre-sales cycle
Long-term nurturing warm relationships/leads
Seek to understand how our prospect businesses buy and what value they look for when considering learning more about Yulife
Self analyse challenges and successes, to constantly optimise your prospecting strategy
Accountability for monthly, quarterly and annual meeting generation targets
Someone who is hungry to understand and develop their insurance and wellbeing knowledge (paid study time will be provided)
Where you will sit in the org:

You'll report to Katarina McKeever, Head of Sales Development

Requirements:

SDR/Sales/Recruitment experience can be nice, but isn't the main thing we are looking for.

Here are the must-haves:

If this sounds like what you'd love to be doing, we can't wait to hear from you.
Hustler Mentality - be hunger for success
Receptiveness to Feedback - reflect and be willing to try different approaches; respect the ideas of peers
Accountability - own your goals, own your failures; ask for help when you need it
Clarity of Communication - present your thoughts quickly, efficiently, and strategically

Emotional Intelligence / Likability - empathise and connect with our prospects and clients

Compartmentalisation / Process Disciplined - simultaneously manage competing priorities through strict discipline and time management

Self Adjust - Reflect, test, and try again. Micro-adjustments are how we win.

Team Player / Culture Fit - contribute to the health and success of the team

Desire to Join - want to be part of Yulife's journey

If this sounds like what you'd love to be doing, we can't wait to hear from you.
The process:
    1. Meet with HR
    2. Meet with the line managers David Shearman, Head of Wellbeing & Engagement
    3. Meet with leadership Keith Bale, Head of Distribution
    4. Meet the YuLife co-founders Sammy Rubin, CEO, Sam Fromson, COO and Josh Hart, CPTO.
    5. Join the YuCrew! 
What you'll get:

We like to give more than we take so here are some of our benefits:
Competitive base salary
Potential to earn share options
6x salary life assurance policy
Income protection policy
Access to the YuLife app (which includes a tonne of well-being rewards, discounts and exclusive offers as well as access to Calm and Fiit)
£20 per month to a "be your best Yu" budget
Unlimited Monthly professional coaching with More Happi
OnHand Volunteering app
£25 monthly budget with Learnerbly
Financial coaching with Octopus Money coach
Generous parental leave policies
Remote working packing; includes laptop, desk, chair etc.
Contributory pension = 3% of basic
24 days Annual Leave + 1 'personal' day (e.g your birthday, moving house anything else that is for Yu!)
Remote and flexible working
Currently our lovely office in Shoreditch is available if people want (and only if they want) to use it.

Here is our framework and principles around hybrid working at YuLife.

Our values: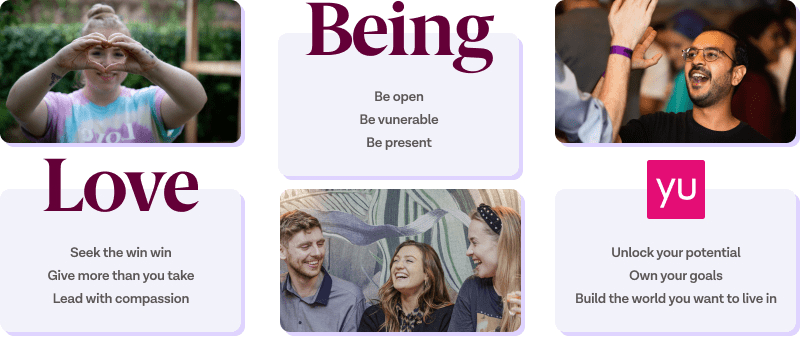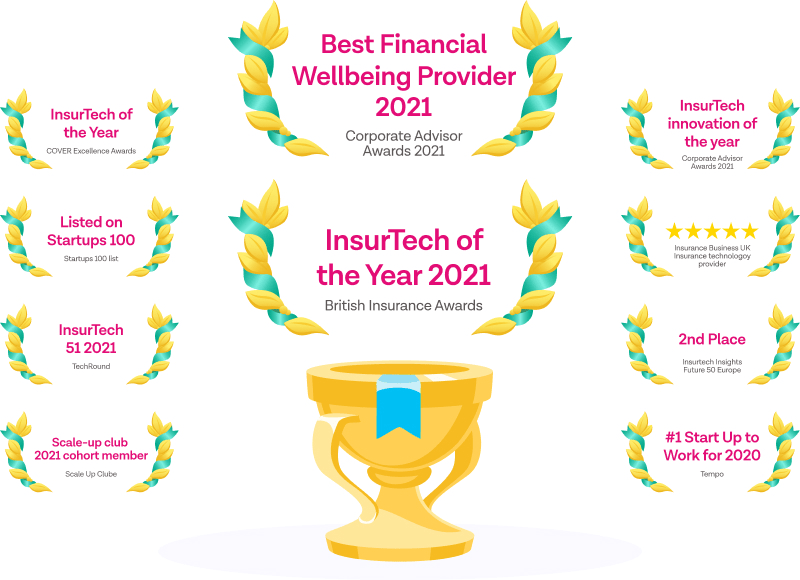 YuLife company culture:

Read what one of our key investors has to say about our culture ›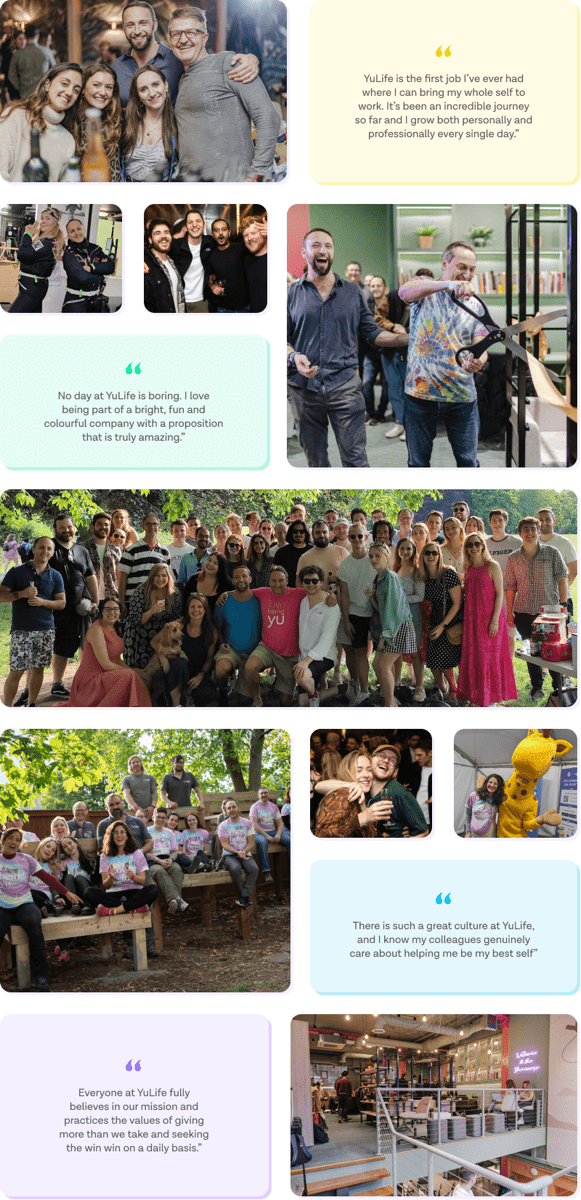 We're more than just life insurance!