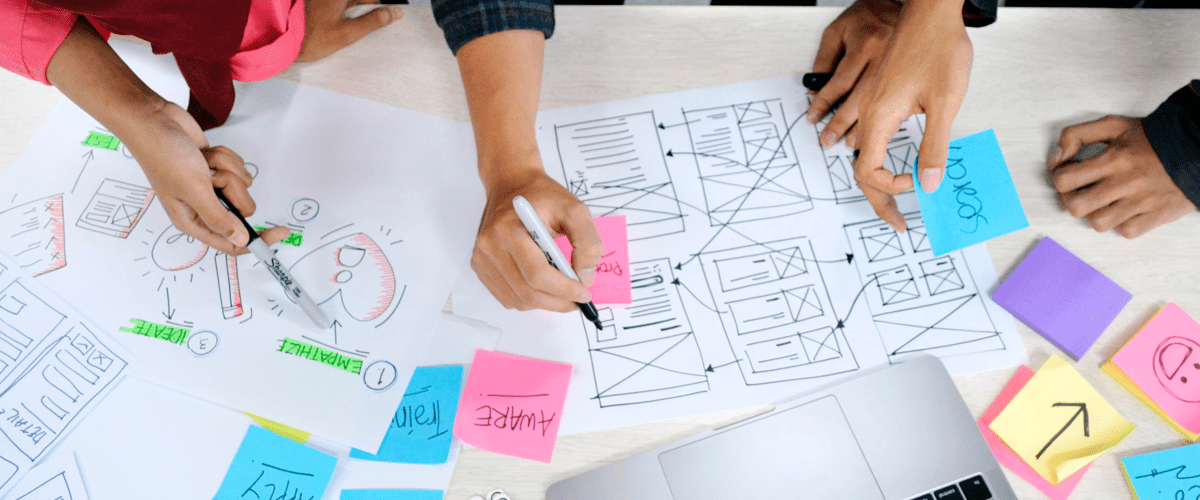 UX Designer
Product and Tech • Flexible remote • Old Street
A huge opportunity to join YuLife's journey in creating a highly intuitive and user-centric product! If you are a contributor, humble and collaborative we want to connect with you!
About us:
YuLife is creating a new kind of insurance company. Our mission is to inspire people to live longer, happier and healthier lives. We provide life insurance to companies and drive employee wellbeing through meaningful, engaging and rewarding experiences inspired by our favourite games, apps and products.
We live by a simple principle and we strive to translate this to our designs: always seek the win-win in everything we do. This means we should always be giving more than we take with every interaction. Sounds good?

The journey so far:
What's happened over the last few years: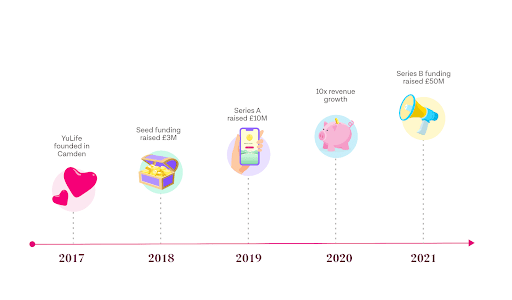 The 2022 mission is to reach 1 million lives!
The role:
We're looking for a UX Designer to join our growing design team and help us build digital experiences that genuinely enhance people's lives. We're trying to shake up an entire industry and that requires radical and free thinking individuals.
We want to work with enthusiastic, empathetic and hard-working people who are ready to go on this wild and rewarding journey with us. Somebody practical and proactive, who actively seeks feedback and wants to grow and give back.

As a UX Designer, you will be accountable for every feature you design - taking those designs from conception to implementation and beyond; being the voice of our users, and telling their stories along the way.
Our ideal candidate is someone who is passionate about the structure and flow of digital solutions, in particular; having a keen eye for detail with web based solutions, understanding user roles/needs, and mapping out journey maps.

You'll be working within a squad of Product Managers/Owners, Data, UI, Developers and QA to bring to life a next-level, gamified based, platform that will transform the way our HR clients get people engaged with our app, based on our founding principles of seeking the win-win.


This role is for you if you:

Are a keen problem solver; you enjoy thinking through complex product challenges and care about solving the right problem; balancing customer needs and business goals


Represent the users in all that you do; you ensure the user is at the heart of your design process, using insight and research to inform your decisions whenever possible or relevant
Thrive within close-knit squad environments; working closely with product managers/owners, UI designers, developers and QA's to bring ideas to life, whilst also shaping how we work as a wider design team


Can see the bigger, agnostic picture; you're comfortable creating tried and tested solutions that stand the test of time, not reinventing the wheel each time, helping contribute to a wider culture built upon our design system

Champion UX excellence; always pushing for cutting edge design frameworks and methodologies, helping drive and shape how we work as a design team
You'll need to have:

A minimum of 2 years experience in UX design


A demonstrable portfolio of relevant work


The ability to draw on a range of UX research methodologies to help inform your decisions and solutions, as well as confidently communicate the what and why


Experience working with quantified analytics and alongside data scientists to help define problems and inform solutions


Experience with Figma (which we use), or other design software

Clear communication, and be able to document concepts; from flows to prototypes


Experience contributing/designing components that form design systems built for scale


Excellent communication skills and the ability to work harmoniously with colleagues located around the world
We'd love it if you also:
Have an interest in video game UX design or just love gaming (in an insurance company? - you better believe it!)


Have experience in creating, communicating, and managing living personas and experience maps that truly represent how and how people interact with products



Have experience in planning, conducting, and analysing remote and face to face usability studies. As well as experience building and maintaining living personas based on insight/data.
What you'll get:
We like to give more than we take so here are some of our benefits:
A competitive base salary
Potential to earn share options
6x salary life assurance policy
Income protection policy

Monthly wellbeing budget to "Be your Best Yu"
Contributions to working from home office equipment
Contributory pension - 3% of basic
24 days of annual leave + 1 day to celebrate your birthday
Flexible and remote working arrangements (read more below)
A shiny MacBook Pro or whatever you need to do your best work
Cycle to work scheme
HIIT and Yoga sessions
Access to Learnerbly with a dedicated budget towards L&D through webinars, books, podcasts, journals and much more
More Happi - 2 professional coaching sessions every month
Find out more about our Hybrid Working policy.

Our values: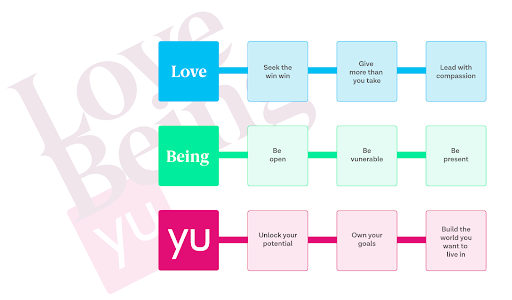 YuLife company culture:
Read what one of our key investors has to say about our culture ›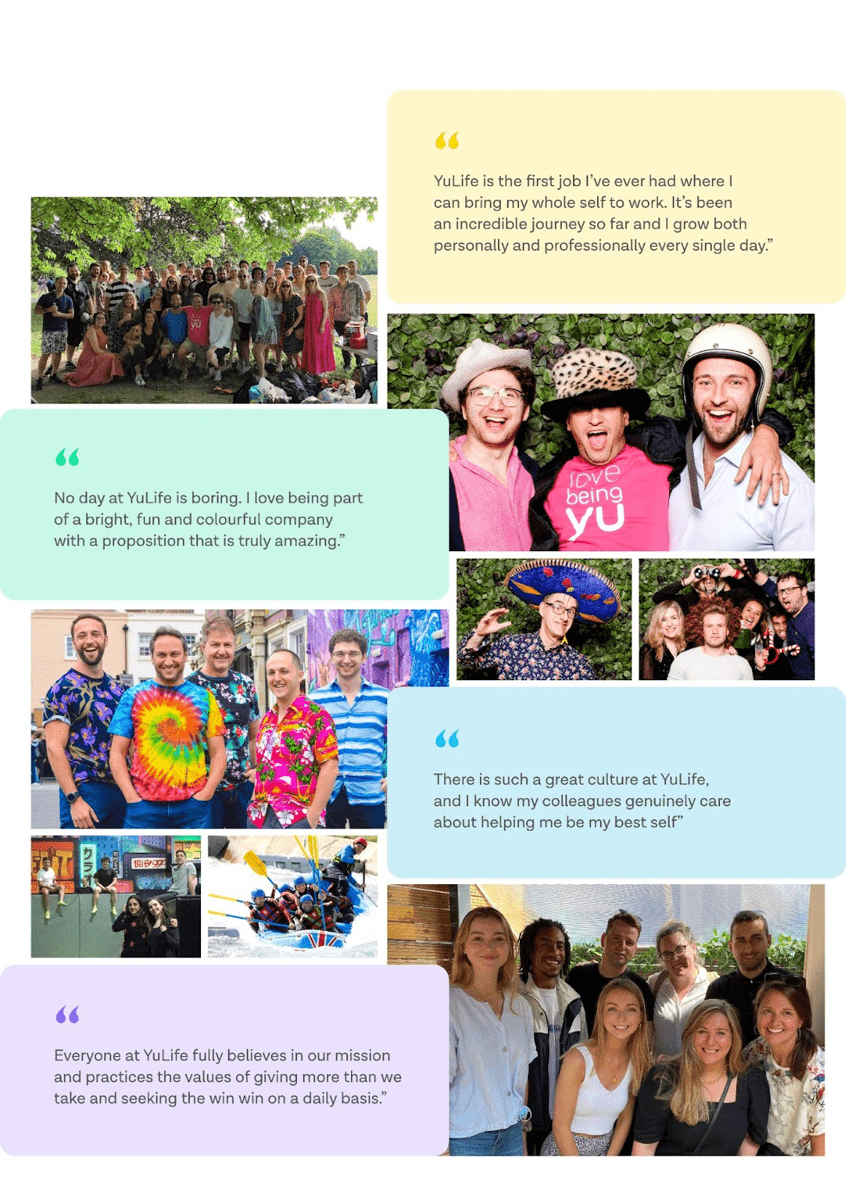 We're more than just life insurance!