How Vanti achieved 85% app downloads & delivered wellbeing benefits worth 10.8x its insurance premium
Vanti partnered with YuLife, and achieved 81% wellbeing benefit engagement within its first five months – find out how…
Yugi the Giraffe - 14 January 2022
Within just five months, creative technology contracting firm Vanti achieved 81% engagement with employee wellbeing benefits worth 10.8x its insurance premium – a formidable, tangible return on a historically passive insurance cost. Driven by the award-winning YuLife app, the business has been building new cultural norms, and supporting employees in a healthier lifestyle – here, they explain how, and why.
The team signed-up to YuLife in 2021, hoping to offer life insurance for the first time, and an innovative employee benefits package that would give back to their dedicated team and stand out when making niche hires in a competitive market. They also needed benefits and a wellness programme that would bring a hybrid team together across both office and home working environments.
"As soon as I saw the website and I met with YuLife, I knew our values were aligned," says Alisha Cohen, People Director at Vanti, a Master Systems Integrator which transforms buildings into spaces that enable and empower people. It was important to the team to find a partner whose values were consistent with their own, so when Vanti's Head of Finance spotted YuLife in a webinar, he was drawn to the company's ethos to turn financial products into a force for good.
YuLife's complete package of insurance, employee assistance and a dedicated app was seen as a distinct advantage, which filled a gap in Vanti's existing offerings. With some of Vanti's values including 'discovery,' 'fun,' and 'care,' YuLife's original gamified approach to better health was a perfect fit.
"It's massively competitive here at Vanti, and I just knew that the app and gamification were going to go down well," says Alisha. "As soon as we launched it, our Slack notifications went crazy. Everybody was counting their steps and talking about YuLife."
High engagement
Vanti bought YuLife's policies and launched the employee benefits app for the team in August 2021 – seeing immediate results. "The minute it was introduced, the majority of the team got straight on board with it," says Operations Coordinator, Danielle Francis. "A lot of people were working from home, so to get the team on board with something, and very quickly, was brilliant. It has definitely encouraged a lot more people to get up from their desks."
The YuLife app has been downloaded by 85% of employees and 81% of the company have become monthly active users.
The YuLife app has been downloaded by 85% of employees and 81% of the company have become monthly active users. YuLife has certainly got staff stepping, with each team member racking up an average of 5,903 steps per day – an impressive 68% higher than the UK national average.
Employee rewards and culture
The ability to earn YuCoin for making simple positive lifestyle changes, and turning it into real-world rewards, is a benefit that has been widely appreciated at Vanti – as has the leaderboard.
"I'm quite competitive and the idea of having a leaderboard of steps across the whole company was quite an attractive one," says Service Engineer, Dan Katri. "I happened to be on holiday and we were doing a lot of walking at the time, and it was a great opportunity to just shoot up the leaderboard!"
As Danielle points out, you don't have to join in, "but a lot of the team have come together to be part of it. I think the YuLife app definitely incorporates the closeness of the team. We're quite a social bunch.
"We're not all the same, obviously – we have our own quirks which make us who we are. But people have actually gone out for runs or walks together and they've used the app as part of that. A few people go for runs at lunchtime, and you can see them moving up the leaderboard."
You don't have to go to extremes to add to your YuCoin total, with a few minutes of mindfulness bringing both increased wellbeing and financial prosperity. Meditation has proved to be the company's most popular challenge, with almost half of Vanti's employees practising mindfulness in their first month with YuLife.
"I think what's pushed me to get back more into mindfulness is the fact that it's one of the daily challenges, and it's an easy one," says Dan. "It doesn't matter if it's raining and I don't want to go for a walk, I can sit down for 10 minutes. And because I'm checking the app every day, it brings it a bit more to the front of my mind."
Communications Manager Tom Silk has also seen an improvement to his wellbeing. "I would definitely say that I'm more mindful of my health because of the app," he says. "There's a lot of different small changes to your life which the app encourages you to make, so you don't need to go away and draw up massive life plans about how you're going to look after your health and wellbeing. It's made me more mindful, and I think more about how I'm living my life."
So what have the team at Vanti been spending their YuCoin on? "Other people!" in Tom's case. "I've done quite a few challenges, and I've got some vouchers from Amazon and ASOS for clothes that someone wanted for a birthday party."
It's been retail vouchers for self-confessed shopaholic Alisha, too. "If I've got my eye on something I'll go for a 30-minute walk because, if I do that, it increases my YuCoin, which means I can get my voucher."
EAP and group life insurance engagement
Despite being a relatively new addition to Vanti's employee care package, the team has already embraced the full range of YuLife's other tangible benefits, including the YuMatter Employee Assistance Programme and 24/7 YuDoctor support which covers any matter, from mental health support to finding a nursery for your child. "I've used the Virtual GP service once and it was great," says Dan. "I had a video call within 10-15 minutes of arranging it, and was able to get a prescription emailed over and picked up later that day."
Service Team Integrator Maddie Smith appreciates the ease with which YuLife brings everything together. "With YuLife's EAP, you can get referred, and if you're going through a really difficult time or if you just want some career development advice or anything you just need help with – life matters, maybe insurance – you can have a confidential conversation. No-one gets told that you've contacted them, and sometimes it's easier to speak to a stranger than somebody you know."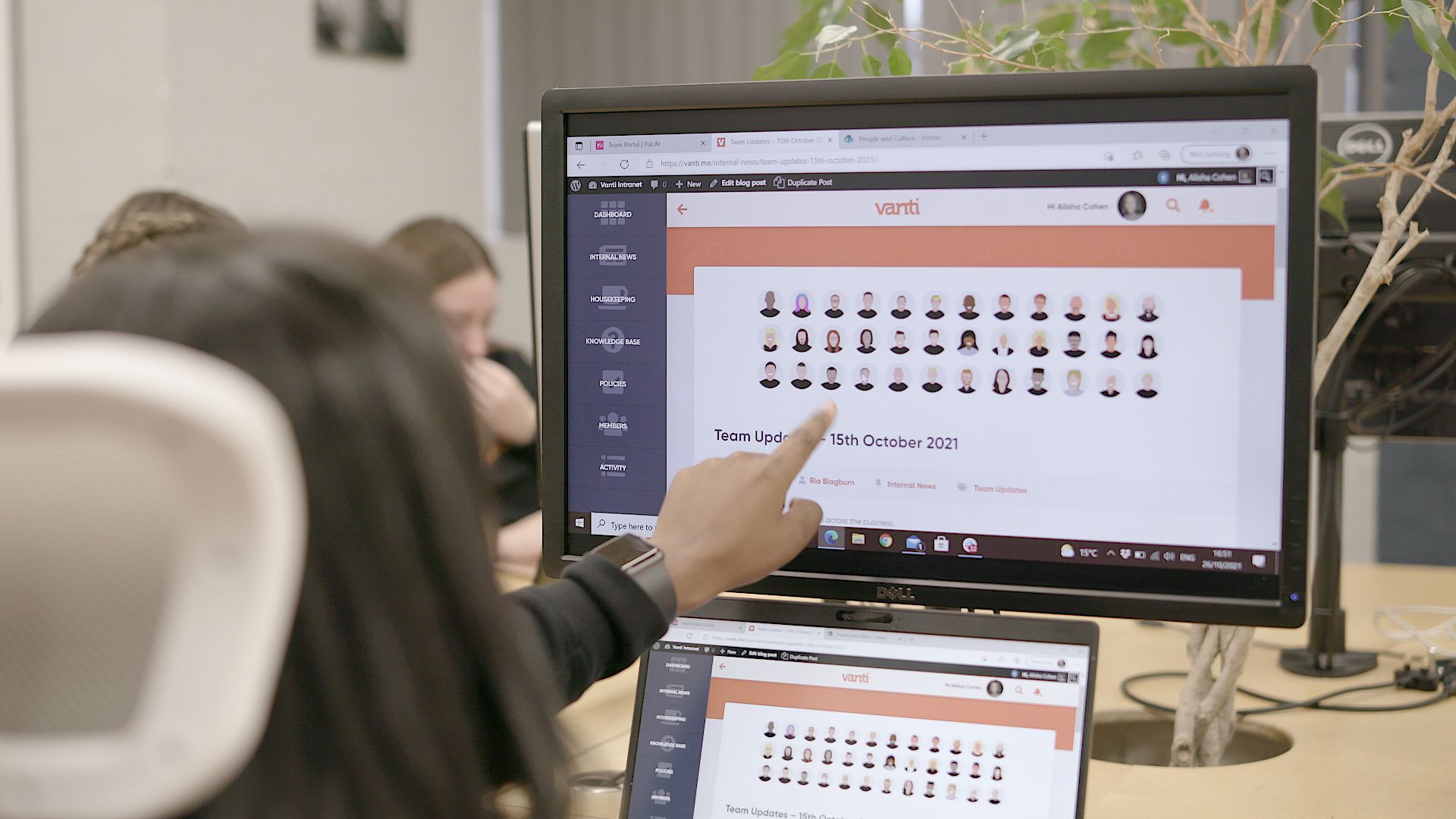 Another aspect that has been warmly received is YuLife's insurance. "The critical illness cover is really reassuring," says Danielle. "You don't normally think, when you're my age, that you need something like this. But, reading into it, it's actually really beneficial – you don't know what's around the corner for you or your loved ones. Things change all of the time. Having that kind of reassurance there in the background, and that I haven't had to physically go out and do it myself, it's been brought to me, has been brilliant."  
Measuring the impact of employee benefits
The complete range of services delivered by YuLife will help to ensure that Vanti can attract and retain the best talent as the company expands, says Tom. "The range of benefits, for a start, goes far beyond just picking up vouchers for walking. There's the will writing, there's the access to GPs, life insurance, all of those major things in your life that you won't have to worry about when you're working for Vanti because we've already got it all in place with YuLife."
67% of users agree that they live healthier lifestyles as a result of using YuLife.
The simple and actionable data driven insights provided by YuLife allow Vanti to measure the impact of their new benefits. Staff have earned a total of over 360,000 YuCoin through taking part in challenges which boost health and wellbeing, while the company as a whole has a marked ROI based on risks covered, rewards earned and improvements to culture, hiring and retention. Meanwhile satisfaction surveys corroborate YuLife's positive impact. Some 67% of users agree that they live healthier lifestyles as a result of using YuLife, 86% feel happier as a result of using YuLife and 85% feel more positive at work and at home.
"I think it shows that Vanti cares about its staff and that's a massive part of our culture, and the sort of people we want to work for Vanti as well," says Tom.
Yugi the Giraffe
Yugi is our YuLife mascot. Like all giraffes they've got a big heart – in fact the biggest heart of all land animals.